Bordeaux Wine Region
Jan 11,2023 | Magnum Opus Wines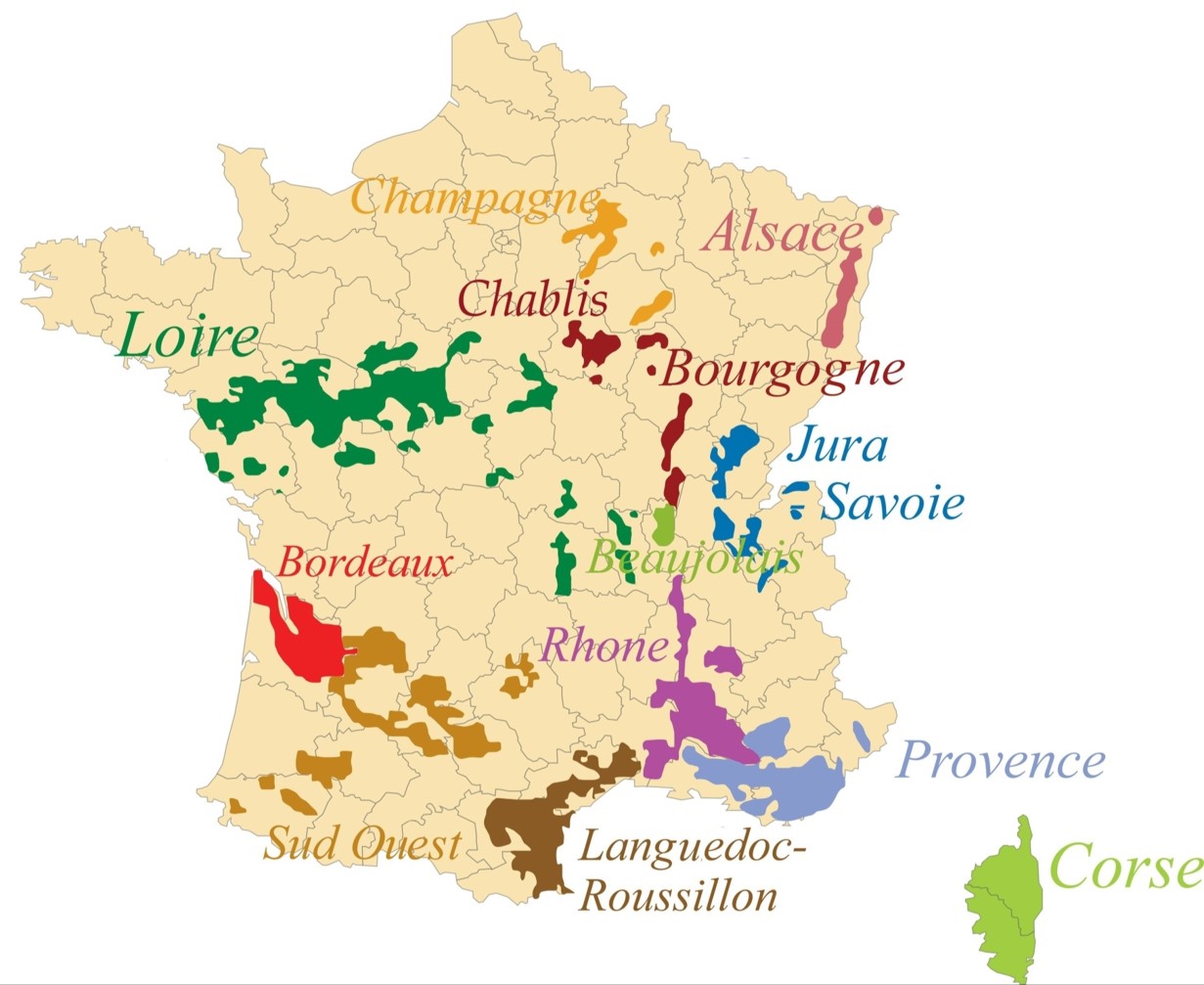 Bordeaux is the world's most famous wine region. Bordeaux is also the second most visited city in France, after Paris. Bordeaux wine region has a total vineyard area of over 120,000 hectares, making it the second largest wine growing area in France, after the gigantic 300,000 hectares of Languedoc-Roussillon. Average vintages produce over 700 million bottles of Bordeaux wine, ranging from large quantities of everyday table wine, to some of the most expensive and prestigious wines in the world.
89% of wine produced in Bordeaux is red, with sweet white wines, dry whites, and also (in much smaller quantities) rosé and sparkling wines collectively making up the remainder. Bordeaux wine is made by more than 8,500 producers or "Châteaux". There are 54 appellations of Bordeaux wine. The climate is oceanic with mild temperatures and a lot of precipitations. The soil is composed of alluvial terraces of gravel deposits, light and draining fast, good for Cabernet, and clay, compact and retaining water, good for Merlot.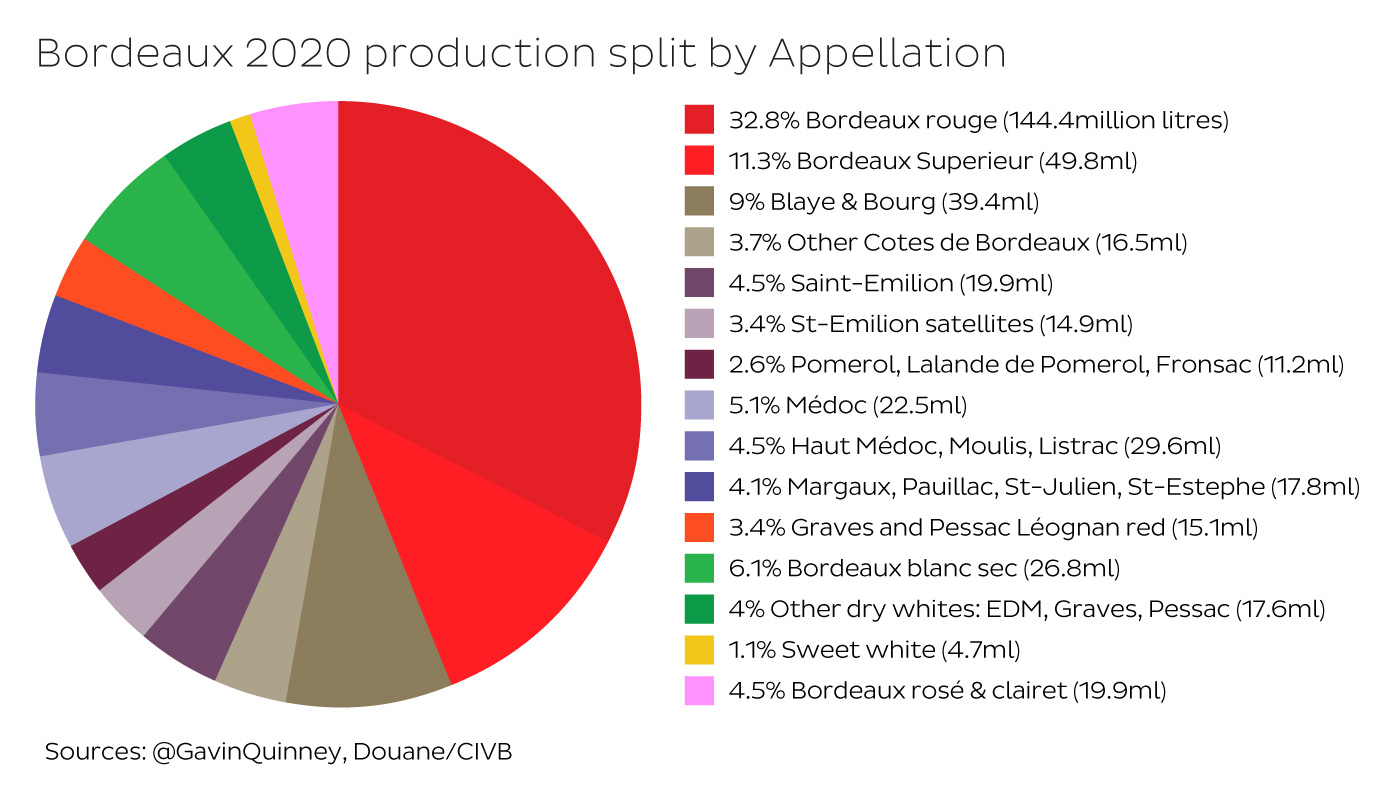 To keep it simple, on the left bank of the Garonne River, you have the Médoc (northwest), the city of Bordeaux (center) and the Graves (southeast). The Médoc sub-region is made of the Médoc AOC, the Haut-Médoc AOC and 6 Communal AOCs. The Graves sub-region is made of the Graves AOC, Graves Supérieures AOC, Sauternes AOC, Barsac AOC and Cérons AOC.
Let's start with the Médoc peninsula (not to be confused with the Médoc AOC) is about 60 km north to south, and about 10 km wide. One third of the Médoc region is taken by the Medoc AOC, in the northern strip, around 5,700 hectares under vines and a production of about 38 million bottles per year. There are 239 independent wineries and 345 cooperatives members. One third is taken by the Haut-Médoc AOC, in the southern strip, about 4600 hectares for a production of 32 million bottles by 242 independent producers and 150 cooperatives members. All the wine made here is red, mostly Cabernet-Sauvignon planted in gravelly soil.
For Bordeaux wine lovers, it is important to know the Cru Bourgeois classification. Originally 444 estates from the Medoc were classified in 1932 when it was first created, versus 249 today. Unlike the 1855 classification, the Cru Bourgeois was revised every year and based on the result of blind wine tastings, it is the specific wine that is classified, not the chateau or vineyard. At their best, there are Cru Bourgeois estates that compete with much more expensive Bordeaux chateaux.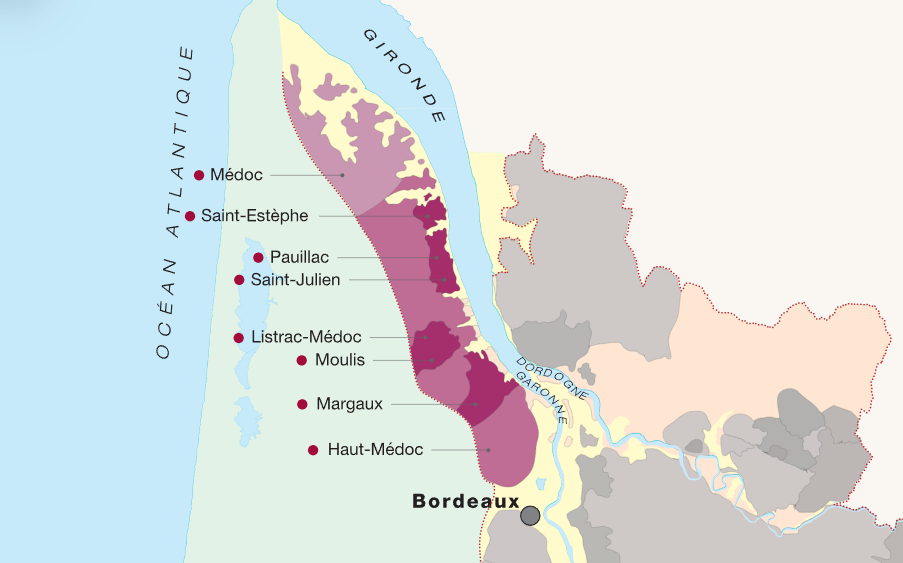 Starting with the 2018 vintage, which was released in 2020, Cru Bourgeois estates are now allowed to be classified into 3 different levels of quality, including 179 Crus Bourgeois, 56 Crus Bourgeois Superieurs and 14 Crus Bourgeois Exceptionnels. Plus instead of reclassifying their wines every year, the new classification will remain in place for 5 years (2018-22). In total, these represent 28 million bottles, 31% of Médoc production.1) Saint-Estèphe is the northernmost appellation of Médoc with 1,300 hectares for an annual production around 7 million bottles. Its soil contains sand and gravel like the rest of the Medoc but it has a higher proportion of clay, and a microclimate softened by the proximity of the Gironde, the largest estuary in Europe, whose influence ensures a moderation of excess temperature and help Saint-Estèphe to produce the best wines in dry hot vintages.
There are roughly 56 different Chateaux in Saint-Estèphe and 80 growers that provide their harvest to négociants or cooperatives.
In the Bordeaux Wine Official Classification of 1855, there are no First Growths in Saint-Estèphe, but 2 Second Growths: Château Cos d'Estournel & Château Montrose; 1 Third Growths: Château Calon-Ségur; 1 Fourth Growths; Château Lafon-Rochet & 1 Fifth Growths: Château Cos Labory. Those 5 estates occupy 20% of the appellation.
Saint-Estèphe also produce a large number of other wines (among which 35 Cru Bourgeois, more than any other appellation in the Medoc), some of them being comparable to or better than some of the Grand Cru Classé wines. Château Phélan Ségur, Château Les Ormes de Pez, and Château Haut-Marbuzet to name a few.
There is no specific rule for the blend proportion in the wine but Cabernet Sauvignon usually represents 60%, followed closely by Merlot, a little bit of Cabernet Franc and Petit Verdot. The wines can be some of the more rustic, austere wines in the Left Bank. When mature, the wines of Saint- Estèphe deliver rich, concentrated, complex wines with notes of blackcurrant, blackberry, tobacco & cigar box.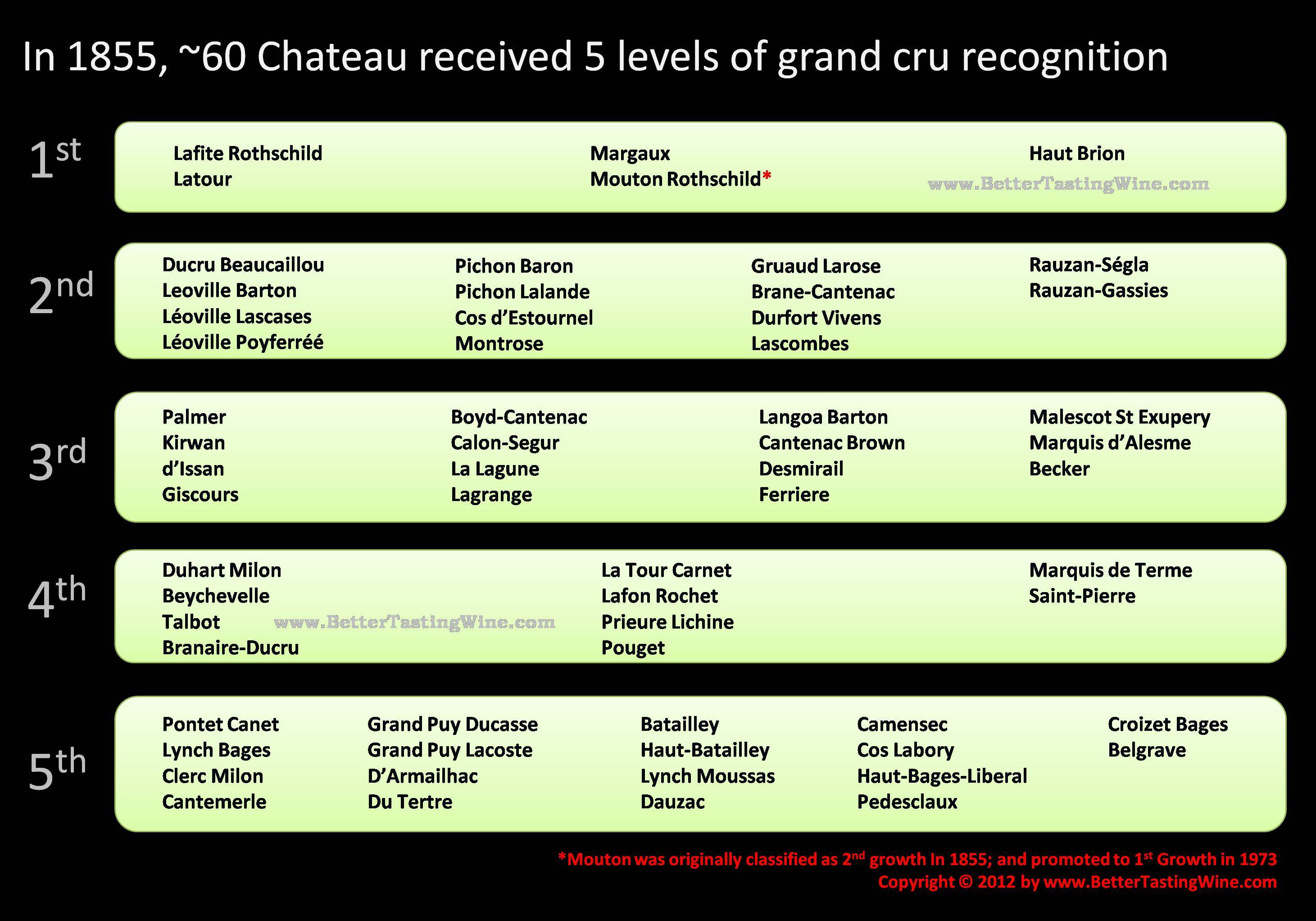 2) Pauillac is perhaps the most famous commune in Bordeaux. Located just north of St. Julien and south of St. Estèphe, Pauillac provides the perfect soils (gravel on top of sand, marl and limestone) needed for Cabernet Sauvignon grapes to produce great Bordeaux wine.
It covers 1200 hectares for an annual production around 6.6 million bottles. Cabernet Sauvignon dominates the vineyard plantings, followed by Merlot, Cabernet Franc, Petit Verdot, Malbec and Carmenere. Small amount of white Bordeaux is produced by some chateaux as well. The white Bordeaux wines are made from Sauvignon Blanc, Semillon and Muscadelle. The white wines are classified, labeled and sold as Bordeaux Blanc.
Pauillac includes 3 of the 5 First Growths Châteaux of Bordeaux: Latour, Lafite Rothschild and Mouton Rothschild; 2 Second growths: Château Pichon-Longueville, Château Pichon-Longueville-Lalande; 1 Fourth growth : Château Duhart-Milon ; 12 Fifth growths: Château Pontet-Canet, Château Batailley, Château Haut-Batailley, Château Grand-Puy-Lacoste, Château Grand-Puy-Ducasse, Château Lynch-Bages, Château Lynch-Moussas, Château d'Armailhac, Château Haut-Bages-Libéral, Château Pédesclaux, Château Clerc-Milon, Château Croizet Bages. That is 18 estates out of the 60 classified in 1855. Pauillac has the least amount of Cru Bourgeois in the Medoc (only 6) with Chateau Pibran at the head of the pack.
Pauillac style of wine has been described as "stark", full bodied and tannic, with scents of red fruits (blackcurrant, blackberry, plum), spices (vanilla, pepper, menthol, liquorice) and wood (cedar, oak), these wines have the ability to age and evolve for decades and need time to mature.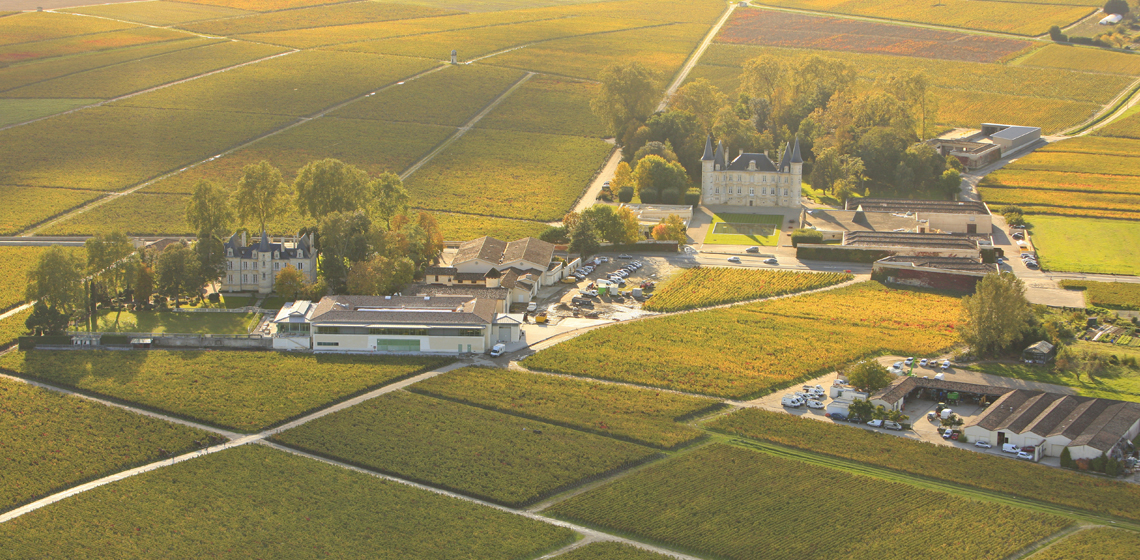 3) Saint-Julien is the smallest of the major Bordeaux appellations in the Medoc with 920 hectares under vine and an average 5 million bottles of wine produced each year. The Saint-Julien terroir offers soils with a mix of gravel, sand, limestone and clay, with more gravel to the northeast and more sand in the southwest. Saint-Julien offers the best of both worlds, combining the elegance of Margaux (south) with the power of Pauillac (north).
Saint-Julien boasts 5 Second Growths: Château Ducru-Beaucaillou, Château Gruaud Larose, Château Léoville Barton, Château Léoville Las Cases, Château Léoville Poyferré; 2 Third Growths: Château Lagrange, Château Langoa Barton; and 4 Fourth Growth: Château Beychevelle, Château Talbot, Château Branaire-Ducru, Château Saint-Pierre. Close to 85% of the entire Saint Julien appellation is classified.
There are several areas classified as Crus Bourgeois, Crus Artisans or without classification that produce beautiful wines: Chateau Bel-Air, Chateau Gloria, Chateau Lalande, Chateau Lalande-Borie, Clos du Marquis, Domaine du Jaugaret, only to name a few.
Small amount of white Bordeaux is produced also from Sauvignon Blanc, Semillon and Muscadelle. The wines are classified, labeled and sold as Bordeaux Blanc.
4) Listrac-Medoc covers an area of 635 hectares for a production of 3 million bottles. Located inland, in a forested area that is not close to the Gironde, Listrac has a slightly cooler terroir than its neighbouring appellations, so the fruit is a little less ripe and generous. The cooler temperatures and diminished ability for natural drainage is a large part of what gives the wines of Listrac its firm, often austere character. Interestingly, Listrac has some of the highest elevations in the Medoc at 43 meters above sea level.
While 74 growers have vineyards in the commune, only 40 chateaux are producers. The remainder of the estates sell their harvest to cooperatives. Chateau Fourcas Borie and Chateau Clarke are the leading producers in Listrac.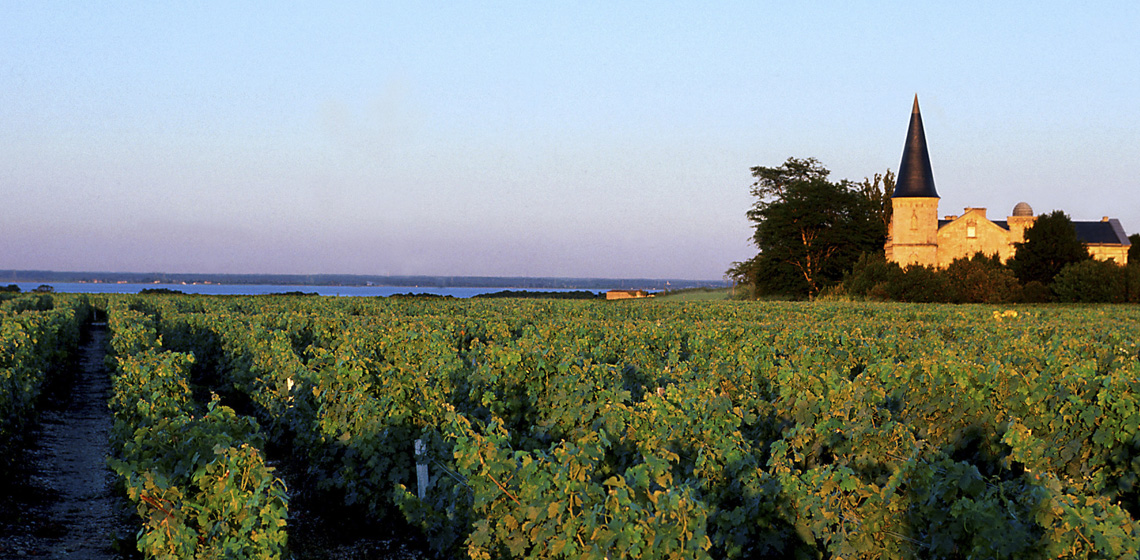 5) Moulis-en-Medoc is the smallest appellation in the Medoc, with only 633 hectares of vines. 53 different Bordeaux estates make wine in Moulis. On average, close to 3 million bottles of wine are produced each year in Moulis.
Moulis is packed with Cru Bourgeois. 14 are located in the commune, taking up slightly more than 60% of the entire appellation. The remainder of the growers sell their harvest to a cooperative.
Cabernet Sauvignon and Merlot are the two key grapes planted in the appellation. The terroir of Moulis is mostly gravel with some clay and limestone in the soil. Due to the higher concentrations of gravel in the soil which gives a better natural drainage, and slightly warmer temperatures, Moulis produces more elegant wine than its neighbour, Listrac. Chateau Poujeaux, Chateau Chasse Spleen and Chateau Branas Grand-Poujeaux are probably the 3 finest, most consistent producers in Moulis.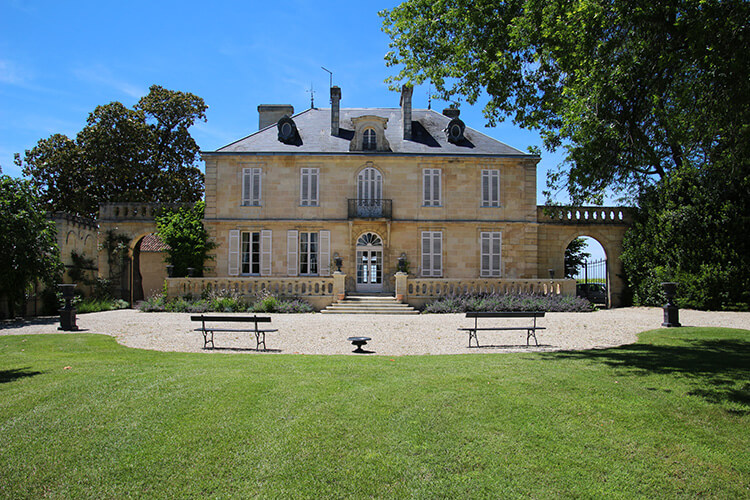 6) Margaux is the most extensive and southernmost of the communal appellations of the Médoc with 1400 hectares and approximately 8 million bottles produced annually. The soil is the thinnest in the Médoc, with the highest proportion of gravel, providing good drainage, coupled with its geographical location, makes it the warmest area in the Medoc and typically the first to harvest.
Cabernet Sauvignon dominates, sometimes equalled by Merlot, the other grape varieties being only marginal. Margaux wines are said to be feminine, by the voluptuous generosity of their tannic structure and their sensuous delicacy. They are fruity and fragrant (red fruits, violet) in their youth, and acquire great complexity with age.
Margaux contains 21 classified châteaux, more than any other commune in Bordeaux. 1 First Growths : Château Margaux ; 5 Second growths : Chateau Brane-Cantenac, Chateau Durfort-Vivens, Chateau Lascombes, Chateau Rauzan-Ségla, Chateau Rauzan-Gassies ; 10 Third growths : Chateau Boyd-Cantenac, Chateau Cantenac-Brown, Chateau Desmirail, Chateau Ferrière, Chateau Giscours, Château Issan, Chateau Kirwan, Chateau Malescot St. Exupéry, Chateau Marquis d'Alesme Becker, Chateau Palmer ; 3 Fourth Growths : Chateau Marquis de Terme, Chateau Pouget, Château Prieuré-Lichine ; 2 Fifth growths: Chateau Dauzac, Chateau du Tertre.
The Graves sub-region (not to be confused with the Graves AOC) stretches over 50km southeast of the city of Bordeaux and derives its name from the gravelly soil. It produces both red, dry white, and sweet wines. In the Bordeaux Wine Official Classification of 1855, only 1 Graves property, Château Haut-Brion, one of the 4 original First growths, was included among the red wines, with all the rest being Médoc properties. All the sweet wines were from Sauternes, which is a part of Graves.
Let's take a closer look at the Graves appellations:
- Graves AOC covers 3400 hectares for a production around 17 million bottles, 75% red and 25% white wine. The authorized grapes varieties are for red wines: Merlot, Cabernet Sauvignon & Cabernet Franc, Malbec and Petit Verdot. For white wines: Sémillon, Sauvignon Blanc and Muscadelle.
- Graves Supérieures, about 250 hectares and 1.25 million bottles, is an appellation for sweet white wine covering the same area as Graves AOC.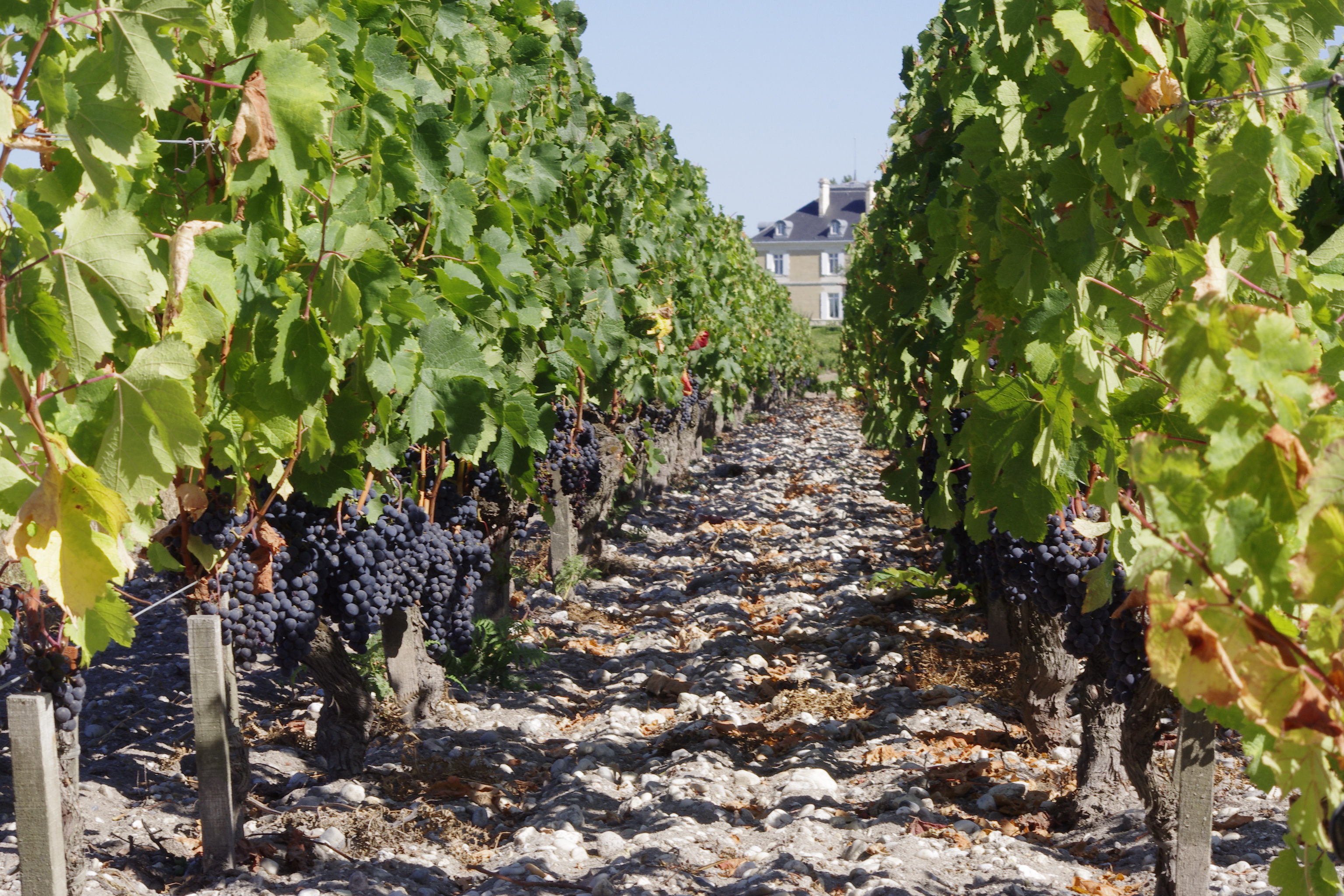 - Pessac-Léognan AOC located just south of the city of Bordeaux, is home to the First Growth estate Château Haut-Brion, as well as all the 1953 classified Graves Growths. Cabernet Sauvignon is the dominant grape variety, followed by Merlot and the white wine grapes Sauvignon blanc and Sémillon. The soil of Pessac-Léognan is composed of gravel terraces with sediments from different geological eras.
Since the official Bordeaux wine classification of 1855 did not take Graves wines into account, a Graves wine classification was established in 1953 and completed in 1959. The 16 classified growths are :
Château Haut-Brion, Chateau Bouscaut, Chateau Carbonnieux, Domaine de Chevalier, Chateau Couhins, Chateau Couhins-Lurton, Château Fieuzal, Chateau Haut-Bailly, Château la Mission Haut-Brion, Château la Tour Haut-Brion, Chateau Latour-Martillac, Chateau Laville Haut-Brion, Chateau Malartic-Lagravière, Chateau Olivier, Chateau Pape Clement, Chateau Smith Haut Lafitte.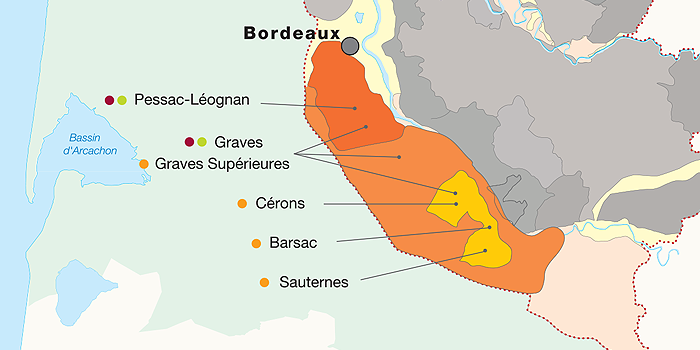 - Sauternes AOC Sauternes is an appellation of 2200 hectares and 5 million bottles, world famous for its intensely sweet, white, dessert wines such as the Premier Cru Supérieur classified Château d'Yquem. The intense sweetness is the result of the grapes being affected by Botrytis cinerea, a fungus commonly known as noble rot. In the autumn, the Ciron river produces mist that descends upon the area and persists until after dawn. These conditions are conducive to the growth of the fungus, which desiccates the grape and concentrates the sugars inside. The 4 main grapes are Sémillon, Sauvignon blanc, Sauvignon Gris and Muscadelle. Production costs for botrytized wines are high. The evaporation and fungus affections produces low yields, one-fifth to one-sixth of that in other Bordeaux regions. The berries are normally harvested individually from the bunch, with pickers going through the vineyards 3 to 6 times between September and November to ensure the berries are picked at their optimal points. The wine is then fermented in small oak barrels, further adding to the cost. Even with half bottles of the First Growths priced at several hundred dollars, these wines still have difficulties turning a profit. The sweet wine industry is facing a crisis, as the sweet nectar is somehow old-fashioned and growers are drove out of business. On the other hand, I haven't met someone who tried Sauternes and didn't like it.
There are 27 classified Growths in Sauternes in the 1855 Official Classification:
1 First Growth Superior: Château d'Yquem (100 ha). 11 First Growths: Château Climens (30 ha) ; Château Coutet (38,5 ha) ; Château Guiraud (100 ha) ; Clos Haut-Peyraguey (12 ha) ; Château Lafaurie-Peyraguey (41 ha) ; Château La Tour Blanche (38 ha) ; Château Rabaud-Promis (33 ha) ; Château de Rayne-Vigneau (80 ha) ; Château Rieussec (90 ha) ; Château Sigalas-Rabaud (14 ha) ; Château Suduiraut (92 ha). And 15 Second Growths: Château Broustet (16 ha) ; Château Caillou (18 ha) ; Château Doisy Daëne ; Château Doisy-Dubroca ; Château Doisy-Védrines ; Château Myrat (22 ha) ; Château Nairac ; Château Suau ; Château d'Arche (40 ha) ; Château Filhot (62 ha) ; Château Lamothe (7,5 ha) ; Château Lamothe Guignard (29 ha) ; Château de Malle (27 ha) ; Château Romer (6,5 ha) ; Château Romer du Hayot (15 ha).
- Barsac AOC Wines produced in the commune of Barsac, such as Premiers Crus Château Climens and Château Coutet, are allowed to be labeled either with the commune name (as Barsac AOC) or with Sauternes.
- Cérons is an appellation for sweet white wines of 40 hectares for a production of 150 000 bottles. Next to Sauternes, but with no producers as noted as the classified properties and therefore with lower prices. On the other hand, the wines are considered superior to those of Graves Supérieures.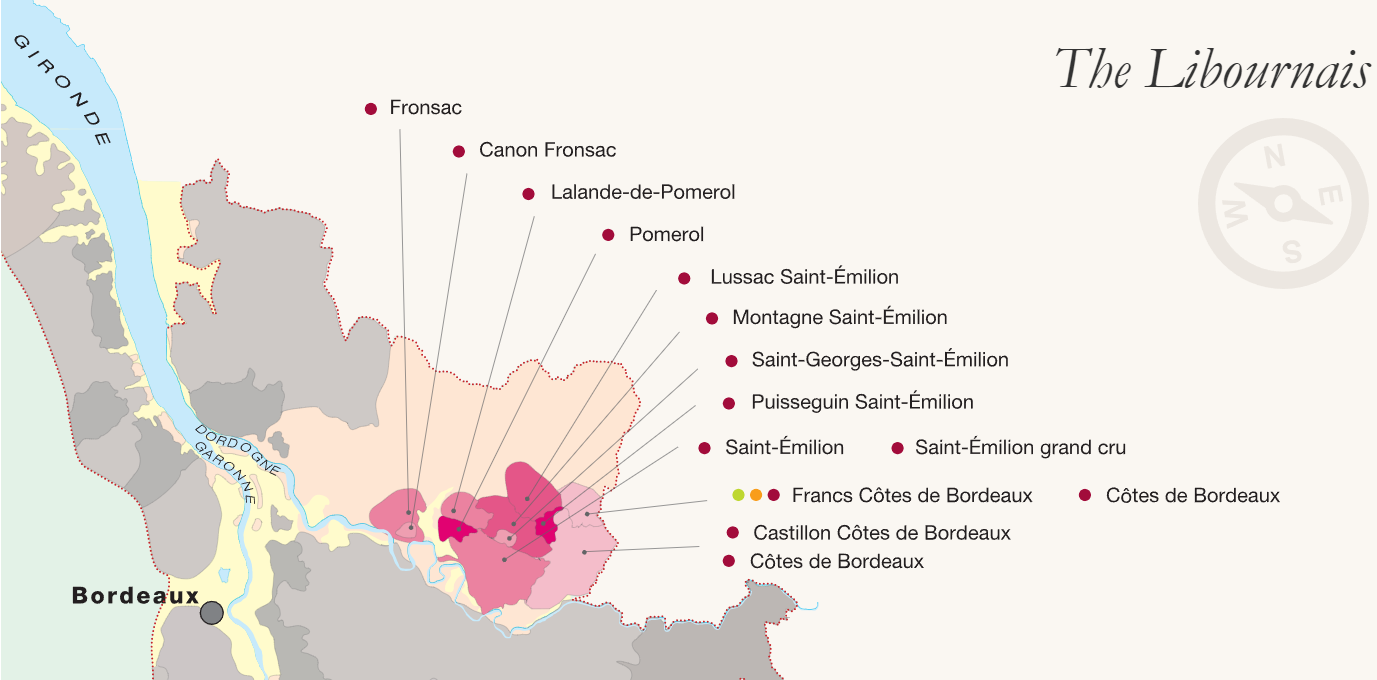 B) The Right Bank
The area of Libournais encompasses much of what is referred to as the Right Bank. Named for its historical capital, Libourne, founded in 1270 by the English, this area sits on the right bank of the Dordogne river and expands west past the convergence of the Isle river. Further west, after the Garonne and Dordogne rivers meet, the region of Bourg and Blaye is found on the right bank of the Garonne. Mostly planted with Merlot and cabernet Franc in a mixture of sand, gravel and clay, right bank Bordeaux are distinguishable by their fineness, suppleness and fruity character as well as a propensity to age faster than the left bank wines.
Let's start with the region of Saint-Emilion, there are in fact 2 AOCs in the Saint-Émilion region: the Saint-Émilion AOC, and the Saint-Émilion Grand Cru AOC. The difference between the two is not geographical, they cover the same appellation area. The difference is linked to stricter conditions: to benefit from the Saint-Émilion Grand Cru appellation, you need a yield limited to 40 hl / ha and a minimum of 12 months aging.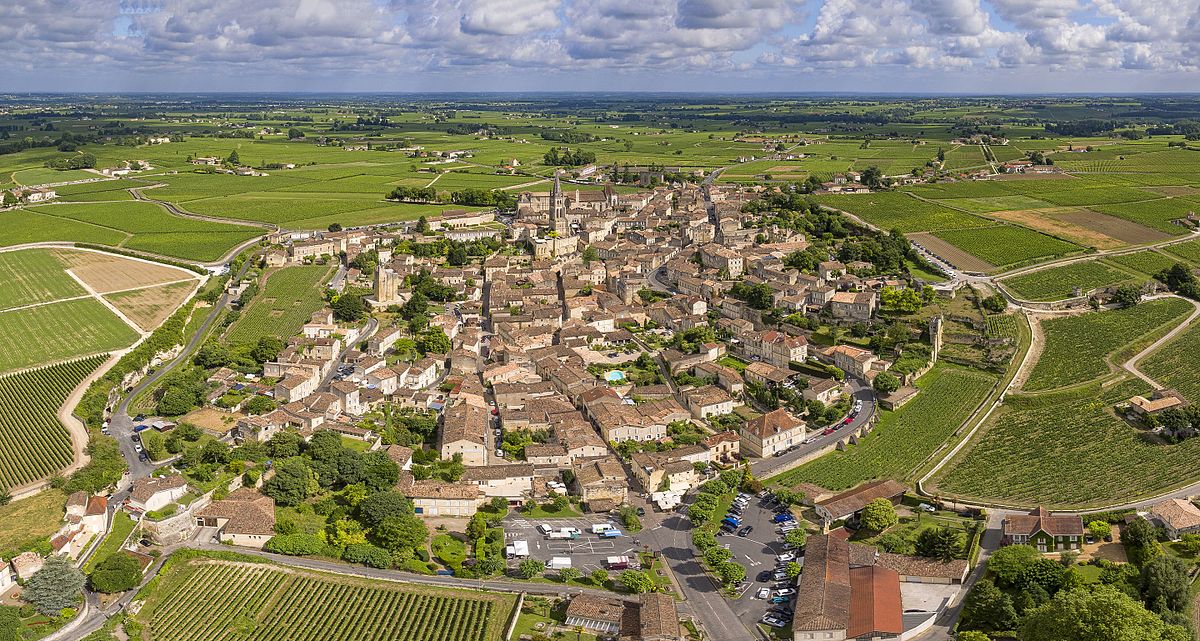 Saint-Émilion AOC is about 5,400 hectares or 6% of Bordeaux total vineyard area for an annual production around 9 million bottles. It is mostly planted with 80% Merlot, Cabernet Franc and a bit of Cabernet Sauvignon.
Saint-Émilion Grand Cru AOC: over 200 hundred Saint-Émilion wines carry the description "Grand Cru", however this designation is awarded under the Saint-Emilion Grand Cru AOC and is not part of the formal 1955 classification. Wines in this category are a step up the ladder compared to Saint-Emilion AOC but not seen as being of comparable quality to the Grand Cru Classés.
Since 1955, Saint-Emilion has its own classification which is updated every 10 years or so, and consists of the following levels: Premier Grand Cru Classés A (2), Premier Grand Cru Classés B (12), & Grand Cru Classés (71).
Since the most recent classification in 2022, there are currently 2 estates at the highest level: Château Figeac and Château Pavie (Ch. Angélus, Ausone, and Cheval Blanc have voluntarily withdrawn). 12 Premier Grand Cru Classés B: Château Beauséjour (Duffau-Lagarrosse); Château Beau-Séjour Bécot; Château Bélair-Monange; Château Canon; Château Canon-la-Gaffelière; Clos Fourtet; Château Larcis Ducasse; La Mondotte; Château Pavie-Macquin; Château Troplong Mondot; Château Trotte Vieille; and Château Valandraud. There are 71 Grand Cru Classes.
Saint-Émilion is registered as a World Heritage Site by UNESCO. 4 other appellations situated immediately north and northeast of the Saint-Émilion AOC are collectively known as the "Saint-Émilion satellites" (Montagne, Saint-Georges, Lussac and Puisseguin, cf below).
Saint-Georges-Saint-Émilion AOC is located north of Saint-Émilion, on the right bank of the river Barbanne and is included in the vineyard of Montagne. There are 190 hectares of vine planted for a production of 1 million bottles of red wine.
Montagne-Saint-Émilion AOC 1,570 hectares of vineyards planted with 75% Merlot, 20% Cabernet Franc and 5% Cabernet Sauvignon for an annual production of 9 million bottles. It can be found northeast of Saint-Émilion, on the right bank of the Barbanne. It produces only red wine, smooth and round on the palate.
Puisseguin-Saint-Émilion AOC covers 750 hectares planted with 80% Merlot, 15% Cabernet Franc and 5% Cabernet Sauvignon, for a production around 4.5 million bottles. Like the vineyards of Montagne, it is located in the area northeast of Saint-Émilion on the right bank of the Barbanne.
Lussac-Saint-Émilion AOC is the northernmost so-called satellite, it covers 1 400 hectares planted with Merlot (65%), Cabernet Franc (25%) and Cabernet Sauvignon (10%), for a production around 9 million bottles of red wine. 900 hectares are operated by 95 independent estates and 500 hectares are exploited by members of the local cooperative.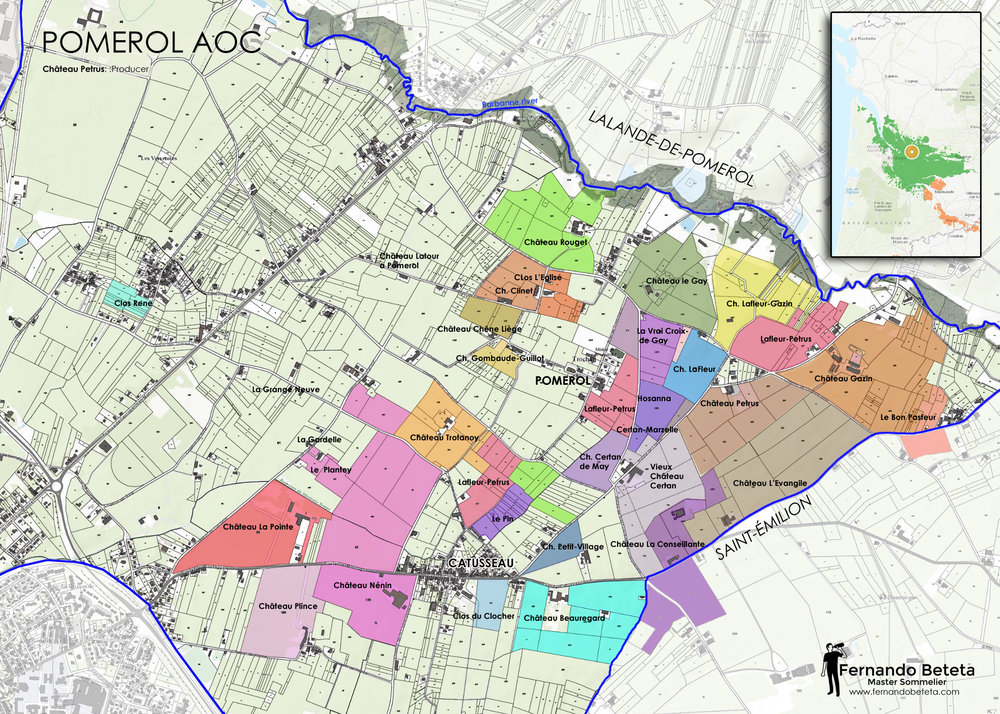 Pomerol AOC is the smallest of the major fine wine regions in Bordeaux, covering an area that is roughly 3 kilometres wide by 4 kilometres long, one-seventh of the size of Saint-Émilion AOC. The plateau on which Pomerol sits is bordered by 3 rivers, the Barbanne to the north, the Isle to the west and Dordogne and the city of Libourne to the south. The vineyard soils to the north and east, closer to the border of Saint-Émilion tend to have more clay, while the soils to the west and south become lighter and more gravelly.
Pomerol now produces exclusively red wine, although 100 years ago it produced a great volume of white. Merlot is accounting for 80% of the vineyard area. The next most important grape is Cabernet Franc, accounting for around 15% of the vineyard area. Malbec is also used. Cabernet Sauvignon and Petit Verdot are barely planted.
When the region received its full AOC status in 1936, the reputation of Pomerol still lagged far behind that of the Médoc. Jean-Pierre Moueix and his family are widely credited with putting Pomerol "on the international map". He opened up a négociant house in the city of Libourne in 1937. In 1945, Moueix acquired exclusive selling rights to Château Pétrus. In 1953 he purchased Château Trotanoy and Château La Fleur-Pétrus followed by Château Lagrange in 1959. Then in 1964, Moueix acquired majority share in Pétrus and fully took over the supervision and direction of winemaking. The 1982 vintage was a watershed moment for Moueix and Pomerol. Aided by a strong US dollar and the glowing reviews of American wine critic Robert M. Parker, Jr., the region gained a strong foothold in the American market and helped propel estates like Pétrus to unprecedented prices on the auction circuit ($2000/750ml). In addition to Pétrus, the Moueix family also owns Château La Grave, Château Latour à Pomerol and Château Hosanna.
Today, there are about 150 producers in Pomerol harvesting 800 hectares of grape vines and producing a year average of 4.5 million bottles of wine. Although they typically fetch very high prices, there is no official classification in Pomerol. Top estates include Chateau Petrus, Chateau l'Evangile, Chateau Lafleur, Chateau Le Pin. Master of Wine Hughes Johnson notes that Pomerols are usually distinguished by their deep color and sometimes creamy, concentrated ripe-plum flavors but without the high acidity and tannins that are typical of other Bordeaux wines.
Lalande-de-Pomerol AOC is located just north of Pomerol, across the Barbanne river. The appellation is bigger than Pomerol with 1100 hectares mostly planted with Merlot and Cabernet Franc for a production of 7.5 million bottles of red wine. They have expressive nose, marked by red berries. After a frank attack, the palate is ample, velvety and fragrant. With age, they develop bouquets of prunes, leather, game and cocoa.
Fronsac AOC recognized in 1937, covers approximately 800 hectares, with 100 winemakers producing 5 million bottles per year. Like other right bank appellations, its red wines are based primarily on Merlot (almost 80%), Cabernet Franc (almost 15%), and Cabernet Sauvignon (under 10%). The color is often a deep ruby red. The aromas of red fruits are often enriched with touches of spices and truffle. Full bodied, their solid tannic structure combines richness and elegance. In fact, until the start of the 19th century, the top estates in Fronsac and Canon Fronsac were better known and often sold for more money than many wines from Pomerol and Saint Emilion!
Canon-Fronsac AOC recognized in 1939, covers 300 hectares for a production of 2 million bottles.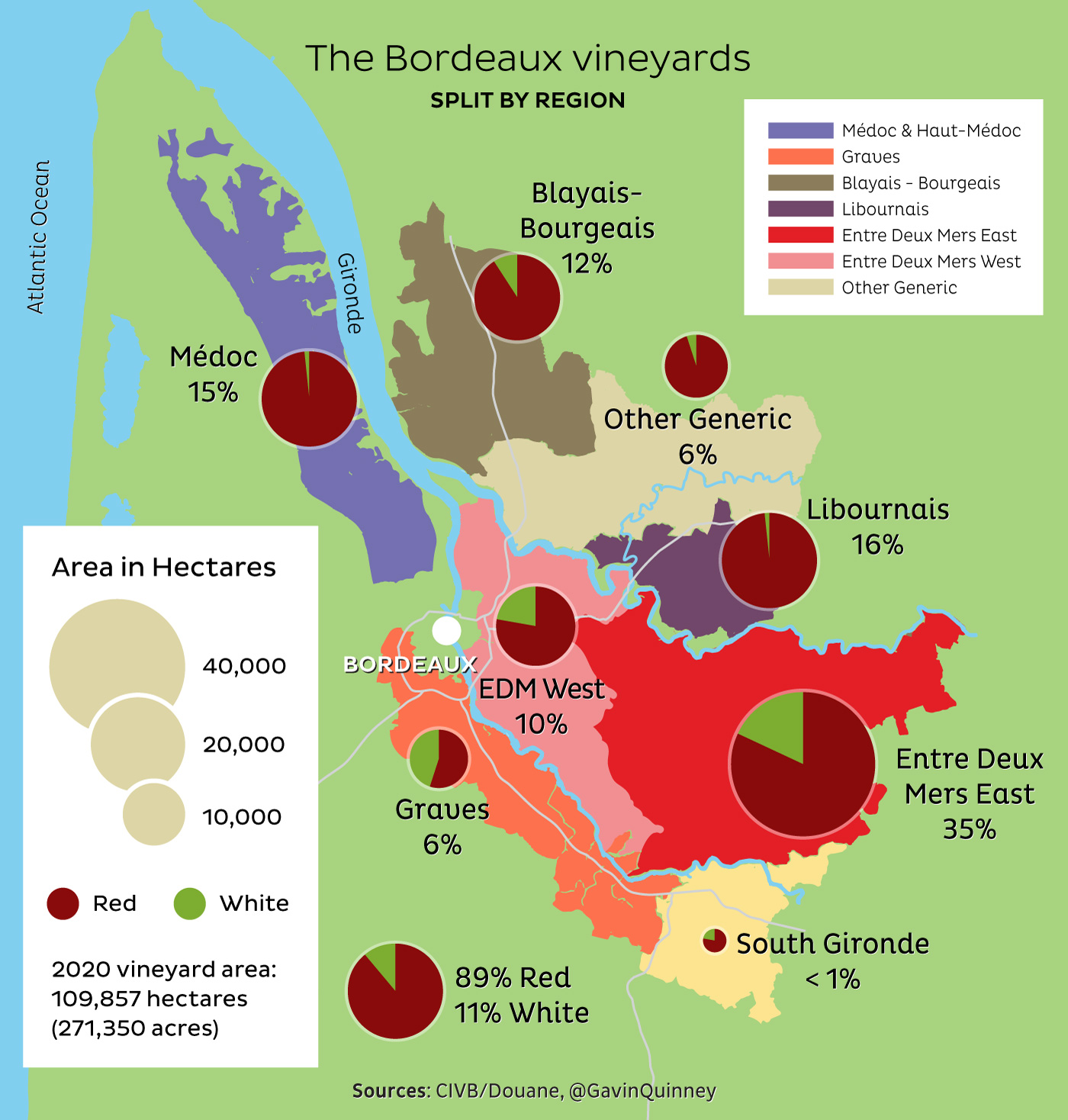 Côtes-de-Bordeaux AOC, created in 2009, over 13 000 hectares and 80 million bottles, close to 14% of Bordeaux production, 99% red wine with a bit of dry white and dessert wines, regroups 5 geographic areas that are far apart from each other:
Blaye - Côtes-de-Bordeaux, former appellation of Côtes-de-Blaye; 6 500 ha ; 40 million bottles. Due to its large size, Blaye Cotes de Bordeaux features a wide array of terroirs and soils, ranging from limestone and clay hillsides, to soils with more gravel, sand and chalk. The appellation produces for the most part, simple wines, red and white, that are often enjoyed by the locals.
Castillon - Côtes-de-Bordeaux, former Côtes-de-Castillon appellation; 2 500 ha ; 20 million bottles. The region takes its name from the famous battle of Castillon in 1453, that helped end the hundred years war between England and France. The wines can be rich, round, supple, concentrated and complex. It's an area Bordeaux wine lovers should pay attention to as the wines of Castillon offer a good price to quality ratio.
Francs - Côtes-de-Bordeaux, former Bordeaux-Côtes-de-Franc appellation; 530 ha ; 3.5 million bottles.
Cadillac - Côtes-de-Bordeaux (in the Entre-deux-Mers) former appellation of red "Côtes-de-Bordeaux"; 3 000 ha ; 14 million bottles.
Sainte-Foy - Côtes-de-Bordeaux (in the Entre-deux-Mers) former appellation of Sainte-Foy-Bordeaux) ; 500 ha ; 1.25 million bottles.
Cotes-de-Bourg is one of the oldest wine producing regions in France and declined to join the new Cotes de Bordeaux appellation in 2009. It is massive with 3,884 hectares under vine. Merlot and Cabernet Franc are the leading grape varieties. The best terroirs feature clay and limestone soils. Cotes de Bourg also produces a limited amount of dry, white Bordeaux wine with plantings of Colombard and Ugni Blanc grapes.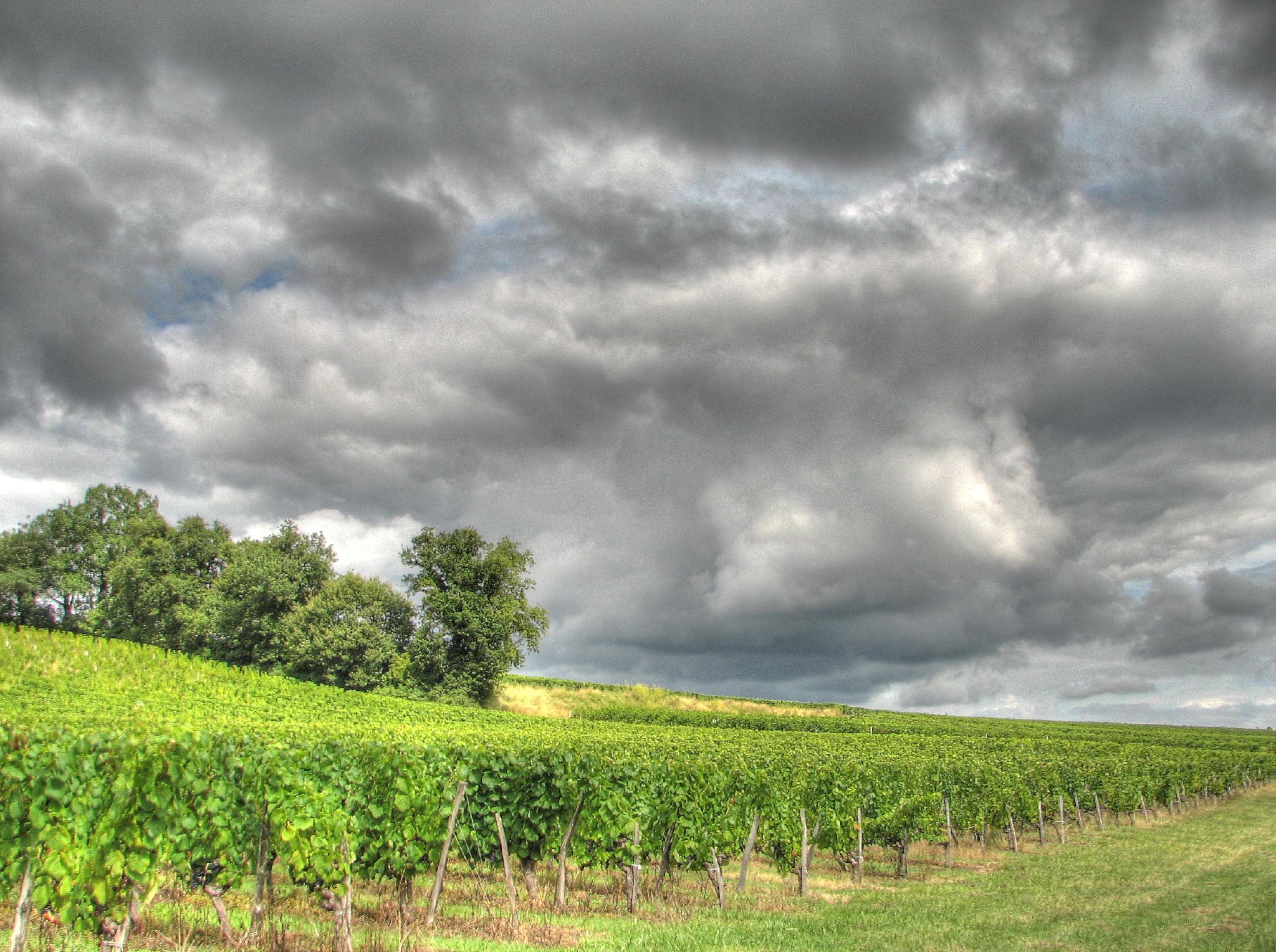 C/ The Entre-Deux-Mers
Between the Garonne and the Dordogne, lies the « Entre-Deux-Mers ». It is the largest sub-region of Bordeaux, although, as there are large areas of forest, relatively little of it is used for growing grapes. The Entre-deux-Mers region produces mainly under the generic Bordeaux appellation, whether in red, rosé or white, to which are added several appellations only for white wines:
- Entre-Deux-Mers AOC is a dry white wine produced in most of the Entre-deux-Mers vineyard. It represents around 1500 hectares and 7 million bottles. It includes the more prestigious appellation Entre-deux-mers Haut-Benauge. The wines are blend of 3 white grape varieties: Sémillon, Sauvignon and Muscadelle. They are better drunk young, with oysters or fish.
- Premieres Cotes de Bordeaux AOC is a white wine produced in a smaller part of the Entre-deux-Mers vineyard, along the right bank of the Garonne. It represents 195 hectares for a production of 1.25 million bottles.
- Cotes-de-Bordeaux-Saint-Macaire AOC; or simply Saint-Macaire is a white wine produced around Saint-Macaire. This appellation extends to the south-east that of the Premieres Cotes de Bordeaux. It covers only 50 hectares for a producton around 100 000 bottles.
- Graves-de-Vayres AOC is an appellation covering 660 hectares for a production around 4 million bottles. The red wines, predominantly Merlot, have a ruby color, a delicate bouquet and a good structure fresh and full of fruit. The 100% sauvignon for dry whites are very fresh, lively and fragrant (citrus and floral notes). The 100% Semillon vinified in barrels are characterized by their buttery, generous textures: round, full in the mouth with tropical fruits and honey flavors.
Plus 3 more local appellations specializing in sweet wines, grouped together on the right bank of the Garonne, just opposite the Sauternes appellation. The proximity of the Garonne, which runs immediately beneath the wine-growing area, creates a local micro-climate. In autumn the river gives rise to early morning humidity, which gradually dries up in the course of the day, conditions that are particularly conducive to the development of noble rot. Sémillon covers 75% of the area. A grape variety with potentially high concentrations of sugar, it has a thin skin which allows the Botrytis Cinerea fungus to develop. The 20% of Sauvignon blanc and Sauvignon gris add a touch of liveliness to the wine, while the 5% of Muscadelle add a touch of complexity.
Cadillac is an AOC for sweet white wine located around the town of Cadillac. Recognized in 1973, it represents 120 hectares for a production around 650 000 bottles.
Loupiac AOC is a sweet white wine produced in the town of Loupiac. Recognized in 1936, the appellation covers 350 hectares for a production around 1.5 million bottles.
Sainte-Croix-du-Mont AOC produced sweet white wines corresponding to the standards and styles of Sauternes. They also have an aging potential of several decades. Recognized in 1936, the appellation covers 450 hectares for a production around 1.75 million bottles.
Let's conclude this article with the Bordeaux Regional Appellations, representing altogether more than 55% of all the Bordeaux wines consumed in the world.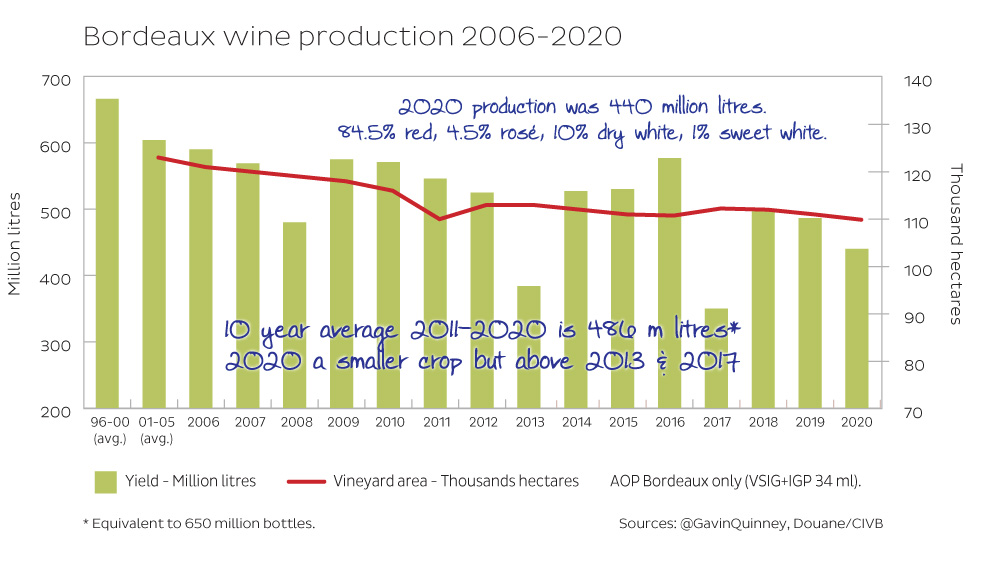 Bordeaux AOC is approximately 50,000 hectares / 290 million bottles for red wine (mostly Merlot, Cabernet Sauvignon, Cabernet Franc and a bit of Malbec, Petit Verdot and Carmenere); 7,000 hectares / 35 million bottles for white wine (Sauvignon Blanc 40%, Semillon 40%, Muscadelle 10%, Sauvignon Gris, Ugni Blanc and Colombard). The entry-level Bordeaux AOCs are fruity, light bodied, easy-to-drink, and meant for early consumption rather than cellaring. More ambitious wines are usually sold as Bordeaux Supérieur AOC.
Bordeaux Supérieur AOC covers the same geographic area as Bordeaux AOC but the vineyard must be planted more densely (4500 vines per ha), the maximum yield is about 10% lower (50hl / ha), the minimum alcohol level is higher (10% ABV) and the wine must be aged a minimum of 9 months before bottling, resulting in a better quality than generic Bordeaux. The surface devoted to Bordeaux Superieur is approximately 4700 hectares for a production of 60 million bottles (10% of Bordeaux production).
Bordeaux Clairet AOC is a wine which can either be described as a dark rosé wine or a light-coloured red wine, similar to the wines which were shipped from Bordeaux to England during the Middle Ages and known as "Claret". The production is about 6.5 million bottles from 900 hectares vineyards, mostly planted with Merlot. They are refreshing wines, appreciated because they can be easily enjoyed on their own or with a variety of food.

Classic Bordeaux Red grape varieties: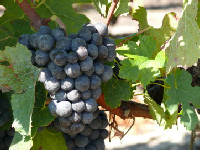 Early-ripening Merlot is the most widely-planted grape variety in Bordeaux. It expresses its full potential on cool soils, producing smooth wines with a great deal of colour, roasted aromas, and flavours reminiscent of red fruit (such as plums) and figs after ageing in bottle for several years. Complex, elegant, oaked, notes of blackberry, currant, liquorice, and sometimes spices and mint.
Cabernet Sauvignon is a traditional late-ripening local variety. The gravely soil of the Left Bank provides the necessary warmth for optimum ripening. This grape variety contributes structure to the wines as well as hearty tannins and a flavour profile including liquorice, black fruit (such as blackcurrant), and elegant aromas of forest floor with age.

Cabernet Franc ripens earlier than Cabernet Sauvignon. It is an excellent complementary grape variety that rarely makes up the majority of the final blend. It adds freshness, finesse, and aromatic complexity as well as hints of raspberry and violet

Classic Bordeaux White grape varieties:

Sauvignon Blanc, except in rare instances, is the most important variety for dry white wines. It provides the wines with the necessary acidity as well as minerality, aromatic freshness, and varietal aromas, such as citrus, boxwood, and fig leaves.

Sémillon is the main grape variety for semi-sweet and sweet white wines and is almost always a component of dry white wines as well. It contributes roundness, richness, and apricot and honey aromas. When affected by «noble rot», it develops an inimitable bouquet.

Muscadelle, which plays a secondary role in the blend for both dry and sweet white wines (generally no more than 10%), is a fragile but very interesting variety with musky floral overtones.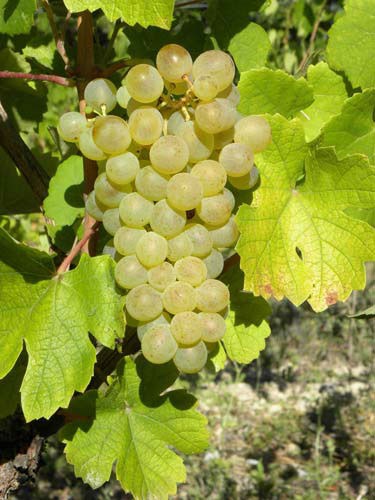 We hope that you learned a thing or two about Bordeaux Wines and will enjoy our Fine Wine selection here: https://www.magnumopuswines.com/collections/bordeaux

And please don't forget to browse our Bordeaux En Primeur 2020 offer : https://www.magnumopuswines.com/collections/bordeaux-en-primeur-2020
Comment