Champagne Wine Region
Dec 20,2022 | Magnum Opus Wines
Champagne Wine Region
Centred on the towns of Reims and Epernay, Champagne is the northernmost vineyard in France (49th parallel). The mean annual temperature of 11 °C creates a difficult environment for wine grapes to fully ripen but also serve to produce high levels of acidity which is ideal for sparkling wine.
The region's reputation for wine production dates back to the Middle Ages when Pope Urban II, a native Champenois, declared that the wine of Aÿ in the Marne department was the best wine produced in the world (1090 AD). For centuries, the still wines of the area were highly prized in Paris under the designation of wines of the river ("vins de la rivière") in reference to the river Marne which carried the wines down to the river Seine and into Paris.
Champagne was able to establish its reputation with the advent of modern glass making in the 18th century, as the region's producers began bottling sparkling wine. Not only were they the first-ever sparkling wines to be tied to a specific region, but they also pioneered a very specific winemaking technique known as Traditional Method or "Méthode Champenoise".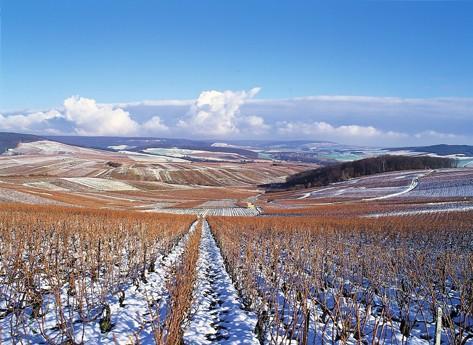 Traditional Method / Méthode Champenoise
After the primary fermentation and bottling of the still base wine, a second alcoholic fermentation is induced by adding to the bottle a mixture of wine, yeast and sugar called "liqueur de tirage". A minimum of 1.5 years is required to completely develop all the flavour in Non-Vintage Champagne and at least 3 years for Vintage/Millesime Champagne. During this time the Champagne bottle is sealed with a crown cap similar to that used on beer bottles.
After aging, the bottle is turned upside down, either manually or mechanically, in a process called riddling/remuage, so that the lees settle in the neck of the bottle. After chilling the bottles, the neck is frozen, and the cap removed. This process is called disgorging/disgorgement. The pressure in the bottle forces out the ice containing the lees, some wine from previous vintages as well as additional sugar ("liqueur de dosage") is added to maintain the level of wine within the bottle and adjust the sweetness of the finished wine. Finally, the bottle is quickly corked to maintain the carbon dioxide in solution.
The Champagne Method takes more time to develop its flavours and is more labour intensive than other sparkling wine methods (i.e. Charmat Method or "Metodo Italiano"), hence the difference in price and quality between Champagne, and say for example, Prosecco.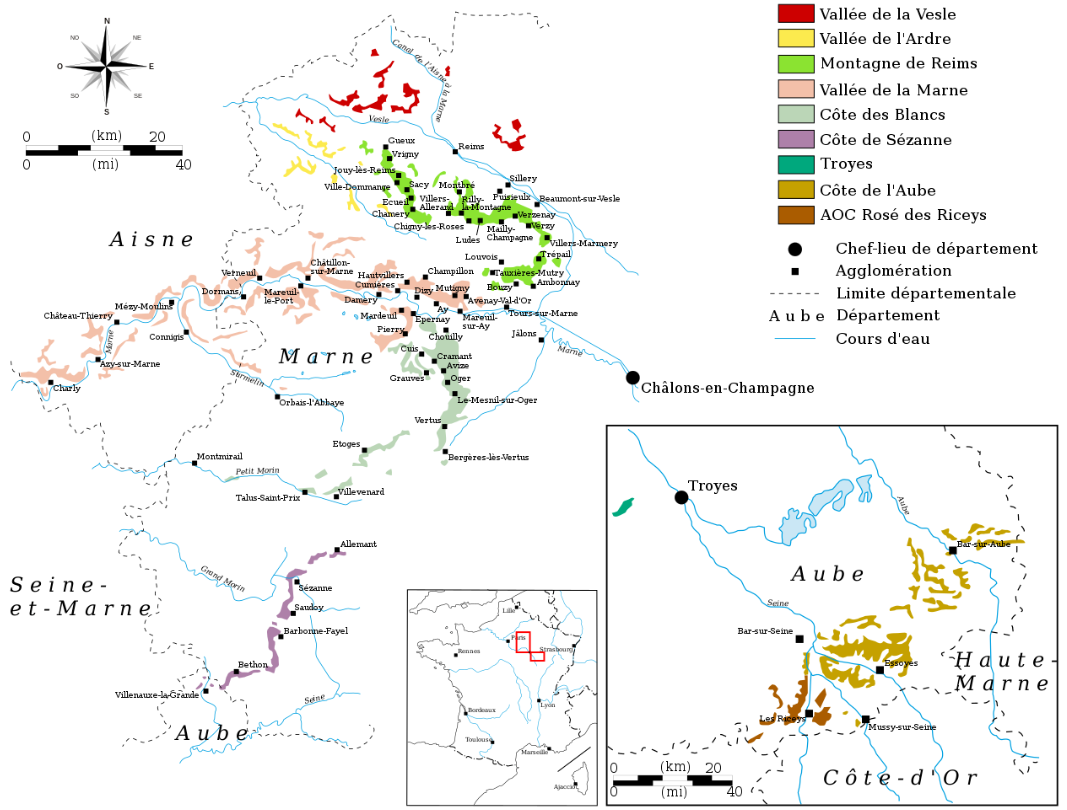 Champagne Key Figures
The worldwide demand for Champagne has been continuously increasing throughout the 20th century. A record in worldwide shipping of Champagne (including domestic French consumption) of 327 million bottles was set in 1999 in anticipation of the new millennium celebrations, and a new record was set in 2007 at 338.7 million bottles.
The Champagne area was defined in 1927 by law and covers 34,000 hectares in 5 sub-regions:
- The Mountain of Reims name is locally justified by the change in altitude between the Champagne plain at an altitude of 80 meters and the cuesta where the vines grow, 200 meters higher. The highest point is Mount Sinai which is 286 meters above sea level. Its territory is divided between 8000 hectares of vines, 20 000 hectares of forest, and 21 000 hectares of cultivated land. Classified Natural Regional Park since 1976. It is surrounded by 3 towns: Reims (to the north), Épernay (to the south) and Châlons-en-Champagne (to the east). There are 94 Villages, including 10 Grands Crus: Ambonnay (385 ha), Beaumont-sur-Vesle (28 ha), Bouzy (378 ha), Louvois (41 ha), Mailly-Champagne (286 ha), Puisieulx (19 ha), Sillery (92 ha), Tours-sur-Marne (53 ha), Verzenay (418 ha) & Verzy (408 ha) ; 13 Premier Crus and 2 others villages. Its soils are chalk-based, with striations of loam, lignite, clay, sand, silt, and marl. Pinot Noir is the main grape cultivated (40%), followed by Pinot Meunier (33%) and Chardonnay (27%). There are some 4900 winegrowers operating here.
- The Marne Valley is the largest growing area in Champagne region, it extends from the city of Tours-sur-Marne to Château-Thierry. It stretches over 100 kilometers along the Marne river, crossing 2 French départements, the Marne and the Aisne, all the way to the limits of Seine-et-Marne. The vineyards cover some 12,150 hectares planted with 58% Pinot Meunier, 24% Pinot Noir and 18% Chardonnay. There are 103 villages, and more than 5500 winegrowers. 2 Grand Cru: Aÿ (367 ha), and Tours-sur-Marne (52 ha). Several major Champagne houses are located in this area: Billecart-Salmon or Philiponnat in Mareuil-sur-Aÿ, Deutz and Bollinger at Aÿ, or Jacquesson in Dizy.
- The Côte des Blancs is one of the gems of the Champagne vineyard, lying perpendicular to the Marne Valley. As its name suggest, it is almost exclusively a white appellation with 3350 hectares planted with 97% Chardonnay, 2% Pinot Noir and 1% Pinot Meunier. There are 13 Villages, including 6 of the 17 Grand Crus in all of Champagne: Avize 268 ha, Chouilly 522 ha, Cramant 350 ha, Le Mesnil-sur-Oger 434 ha, Oger 403 ha, Oiry 88 ha; as well as 7 Premier Crus. Unlike the Marne Valley and Montagne de Reims, the Cote des Blancs mostly lacks the south-facing slopes needed for powerful Pinot Noir. On the other hand, an east-facing slope with some forest on top provide protection against wind and rain, a good drainage, and the chalky soils are perfect for mineral wines. Chardonnay generally finds its best expression in the Côte des Blancs. This means a combination of good concentration, a high acidity that contributes freshness, and a prominent mineral character. Chardonnay from other parts of Champagne tend to be a bit softer or heavier.
- The Côte de Sézanne lies about 25 minutes drive southeast of the Côte des Blancs. There are 12 villages in the sub-region with 1,400 hectares of vineyard and 715 operators. 75% Chardonnay, 19% Pinot Noir and 6% Pinot Meunier. The terroir of the region is unlike the predominantly chalky soils further north, the soils here are mostly clay and a mixture of clay and chalk, grapes tend to ripen a little earlier than other regions.
- The Côte des Bar is located in the southern part of the Champagne production area, characterised by Jurassic slopes overlying Kimmeridgian limestone bedrock, similar to Chablis, crisscrossed by small lush valleys that connect with those of the Seine and Aube. The Côte des Bars encompasses a patchwork of vineyards with as many different exposures. The predominant planting is the Pinot Noir 84%, Chardonnay 13% and Pinot Meunier 3%. There are 8000 hectares of vineyards in 64 villages, operated by 2500 winegrowers. Historically, the grapes produced here were sold to the Champagne Houses in the Marne Valley and the Cote des Bar wasn't attached to Champagne until 1927, so there are no Grand Cru or Premier Cru vineyards here. The Champagnes produced are often described as fruitier, slightly softer, and they tend to develop a little faster than the ones from northernmost areas. Les Riceys, a town with more than 800 hectares of Champagne, has 3 AOC Champagne, Coteaux Champenois (still wines), & Rosé des Riceys produced from the Pinot Noir grape variety.
=> 3 AOC : 90% Champagne, 5% Red Coteaux Champenois, 5% Rosé des Riceys. The region also produces a regional vin de liqueur called Ratafia de Champagne, the local grapes juices fortified with the distilled pomace called Marc de Champagne.
=> 3 grapes varieties: Pinot Noir 38%, Pinot Meunier 31%, Chardonnay 31% (but very small amounts of Pinot Blanc, Pinot Gris, Arbane, and Petit Meslier are vinified as well).
The Champagne wine growing area covers around 320 villages (44 Premier Cru and 17 Grand Cru) that are home to 5,000 growers who make their own Champagne and 10,000 growers who sell grapes to the Champagne Houses.
Today there are 340 trading houses in Champagne representing 70% of the production. Among these houses 5 groups are publicly traded: LVMH, Pernod-Ricard, Vranken-Pommery Monopole, Boizel Chanoine and Laurent Perrier.
In 2018, the Champagne region produced 360 million bottles, equivalent to 4.9 billion Euros (of which 2.9 billion Euros for export).
3 Main Types of Producers
Please check the fine prints on the back label to see it.
- NM: "Négociant manipulant". These companies (including the majority of the Champagne Houses), have their own vineyards, but also buy grapes from small growers, usually from a cluster of villages or the entire region, and blend them together to produce their own brands.
- CM: "Coopérative de manipulation". Cooperatives that make wines from the growers who are members, usually from the same cluster of villages, with all the grapes pooled together.
- RM: "Récoltant manipulant". Also known as Champagne Grower, independent producers who only make Champagne with their own grapes (a maximum of 5% of purchased grapes is permitted).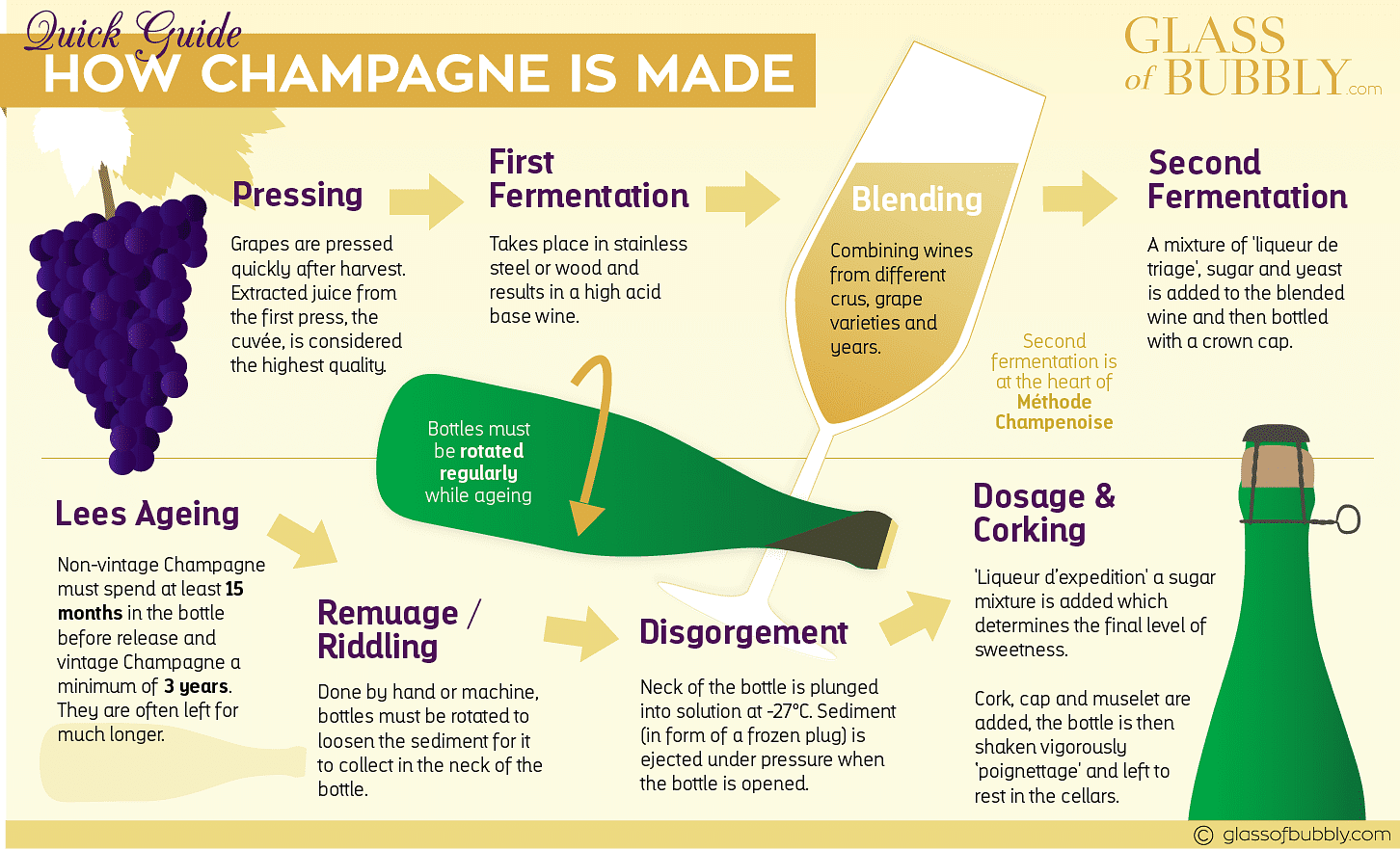 The Art of Blending
The various terroirs account for the differences in grape characteristics and explain the appropriateness of blending juice from different grape varieties and geographical areas within Champagne, to get the desired style for each Champagne house.
Grapes from different vineyards are blended by the Champagne producers to create their distinct house styles, either non-vintage champagnes (blended from different years) or vintage champagne, blended from wines of the same harvest.
The Grapes planted on northern facing slopes are known for their high levels of acidity and the delicacy they add to the blend. The grapes on the southern facing slope add more power and character. Grapes across the district contribute to the bouquet and headiness.
The 3 grape varieties of Champagne:
- Pinot noir is grown on 38% of the area and main variety on the mountain of Reims because of the chalky soil and cooler temperature. Pinot Noir produces structured wines; it also gives them body and pungency.
- Pinot Meunier is present on 31% of the area. This sturdy variety is more adapted to clayish soils like in the Great Marne Valley and can better cope with tougher climatic conditions for the vine. Characterized by its fruity flavour and intense bouquet, it adds suppleness and roundness to the wines.
- Chardonnay grows on 31% of the vineyards, mostly on a north–south-running strip to the south of Épernay, called the Côte des Blancs, including the villages of Avize, Oger and Le Mesnil-sur-Oger. It offers delicate citrus and floral aromas, and gives the wine its acidity and biscuit flavour.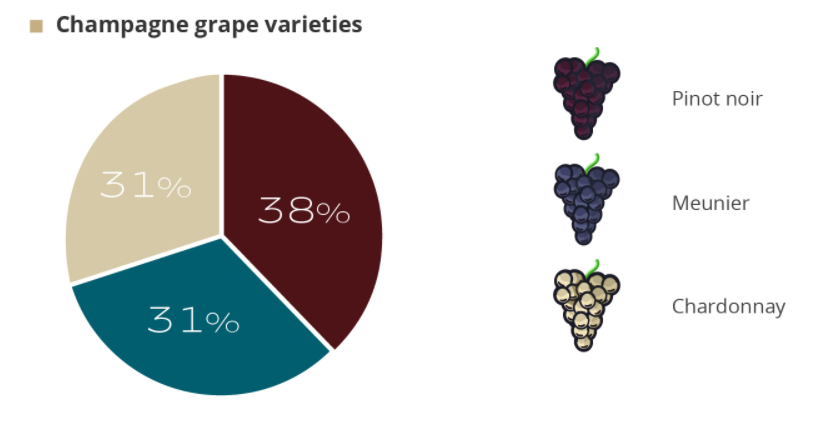 Types of Champagne:
- Non-Vintage: Most of the Champagne produced today is a blend of grapes from multiple vintages. Most of the base wine will be from the current year harvest with producers blending anywhere from 10 to 40% of wine from older vintages. This ensures a consistent style that consumers can expect from non-vintage Champagne that does not alter too radically depending on the quality of the vintage.
- Millesimé and Prestige cuvée: If the conditions of a particular vintage are favourable, some producers will make a vintage wine that must be composed of 80% of the grapes from that vintage year. This allows at least 20% of the harvest from each vintage to be reserved for use in non-vintage Champagne.
- Blanc de noirs: A French term for a white wine produced entirely from black grapes (Pinot Noir and/or Pinot Meunier).
- Blanc de blancs: A French term used to designate Champagnes made exclusively from Chardonnay grapes or in rare occasions from Pinot Blanc (white grape varieties only).
- Rosé Champagne: "Pink Champagne" are produced either by leaving the clear juice of black grapes to macerate on its skins for a brief time or by adding a small amount of still pinot noir red wine to the sparkling wine cuvée.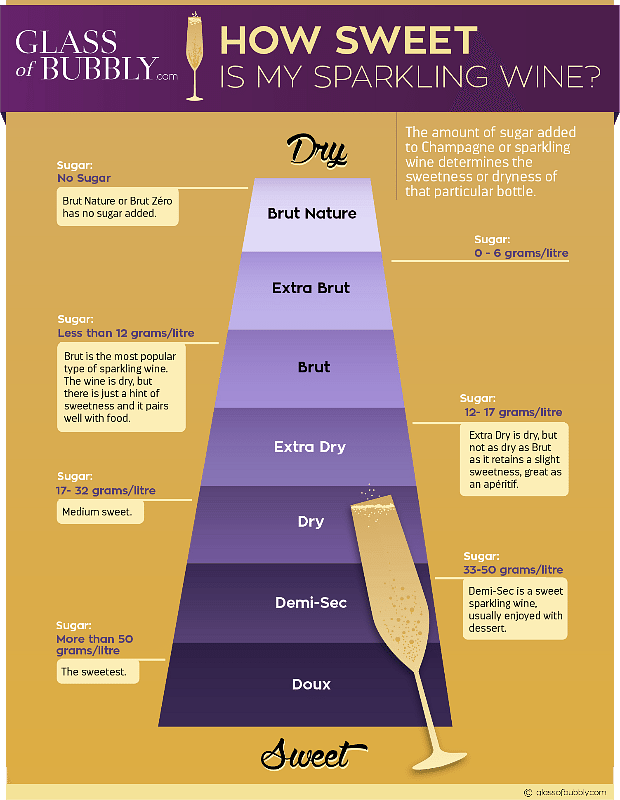 Sweetness Level of Champagne
The liqueur de dosage is used after disgorgement to fine tune the perception of acidity in the wine. The following terms are used to describe the sweetness of the finished wine:
- Brut Nature (No sugar added)
- Extra Brut (less than 6 grams of sugar per litre)
- Brut (between 6 to 12 grams)
- Extra Dry (between 12 and 17 grams)
- Sec (between 17 and 32 grams)
- Demi-sec (between 32 and 50 grams)
- Doux (50 grams)
The most common Champagne style by far today is Brut. However, there is a trend among small Champagne houses to produce "Brut Zero or Brut Nature" with no added sugar (<3 grams of residual sugar per litre) in the finished wine. Interestingly, throughout the 19th century and into the early 20th century, Champagne was generally much sweeter than it is today, and Champagne "Demi Sec" was particularly popular.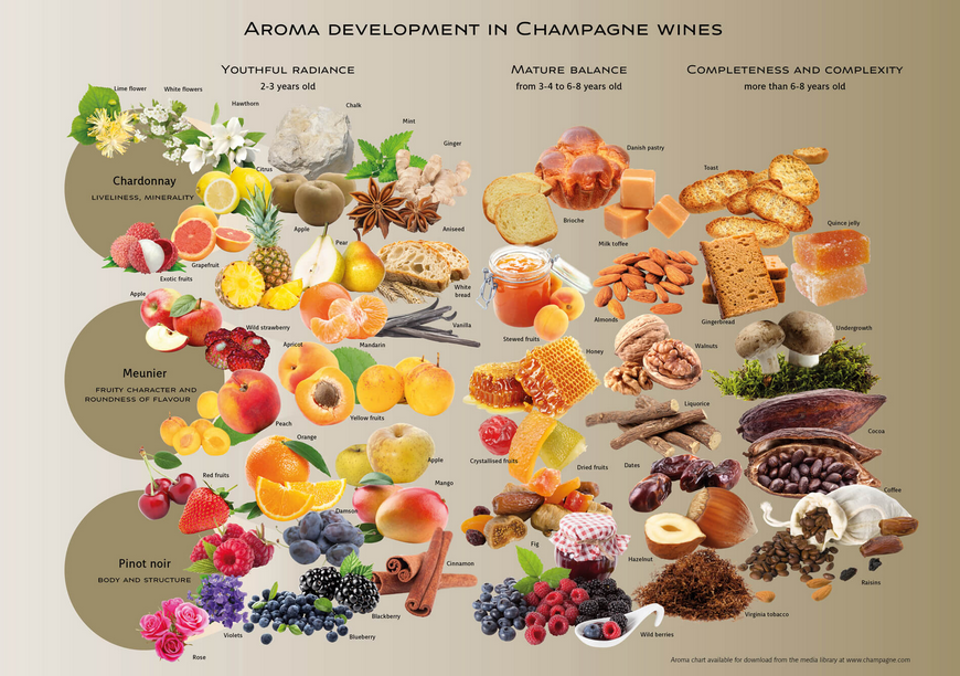 Food Pairing with Champagne:
Let's start with the lightest style, Blanc de Blancs (Brut Nature, Extra Brut or Brut): They are usually pale, fine, subtle and delicate so we need to pair it with light dishes, caviar, oyster, scallops, seafood carpaccio for example would be a great pairing, or soft ripened cheese with brioche to match the buttery notes.
Moving on to the classic Champagne blend of Pinot Noir, Pinot Meunier and Chardonnay (Brut Nature, Extra Brut or Brut): there are plenty of variety to choose from and great diversity from one producer to another, so it is probably the most versatile style of Champagne, great pairing would include white fish in lemon and butter sauce, sushi, grains based dishes, soft ripened cheeses, tempuras and steamed vegetables.
A Blanc de Noirs, (Brut Nature, Extra Brut or Brut) has more color and flavors than the previous styles, it is more vinous with a broad palate and intense aromas, so it is easier to pair with white meats and poultry in sauce, a Christmas turkey, or a veal blanquette for example.
The Champagne Rose, (Brut Nature, Extra Brut or Brut), half way between white and red, would pair easily with seafood or meat, and usually go well with everything pink : prawn, crab, lobster, salmon, tuna, bacon, duck, tomato sauce, beetroot, all sort of berries…
Last but not least, the sweeter style of Champagne Extra Dry, Sec, Demi Sec, or Doux are great with savoury duo of sweet and sour, spicy dishes, desserts if they are not too sweet like a lemon pie, and of course, on their own as an aperitif or instead of dessert.
We hope that you found this blog article interesting and learn a thing or two about Champagne, now that you know almost all the theory please have fun and experiment, we have selected some of our favourites Champagne here :
https://www.magnumopuswines.com/collections/champagne
Cheers!
Comment