Loire Valley wine region
May 29,2023 | Magnum Opus Wines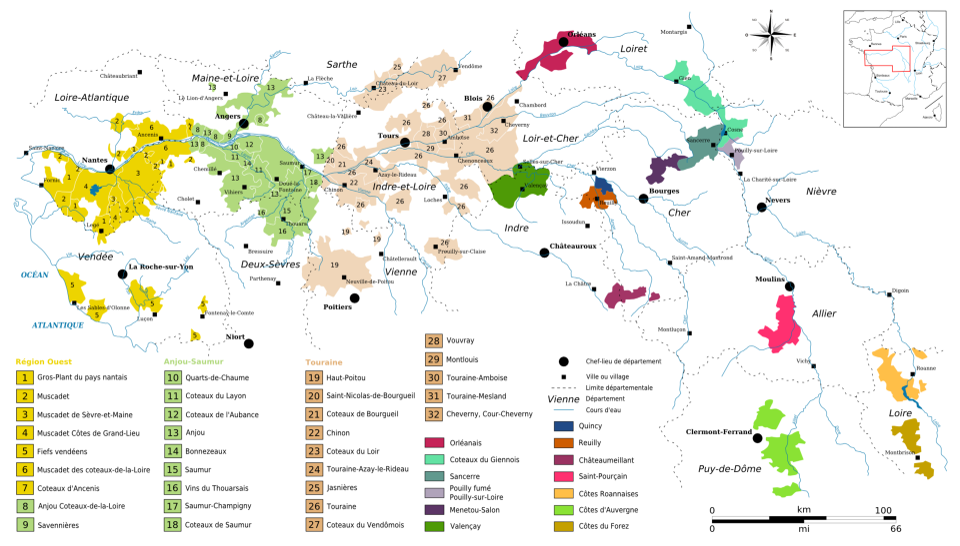 The Loire Valley is a land of balance between North and South, art and literature, tradition and modernity.
The longest river in France, the Loire flows for 1000 kilometres studded with 1000 magnificent castles and vineyards on both sides, springing from eastern Massif Central and passing through 12 French Departments on its course to the Atlantic Ocean, effectively dividing the country in 2 in the process.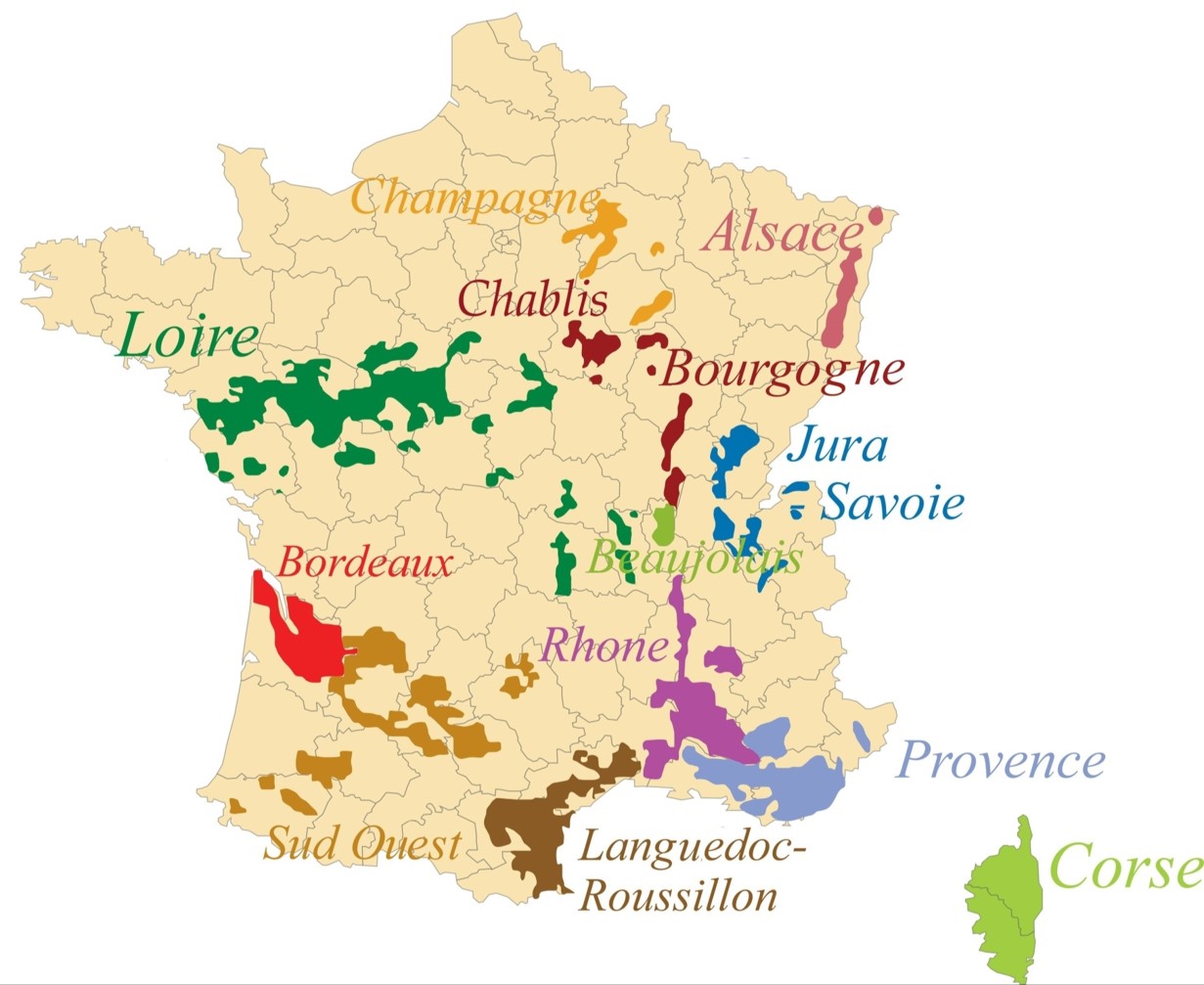 A rich cultural heritage
Archaeological evidence suggest that the Romans planted the first vineyards in the Loire Valley during the 1st century AD. By the 5th century, the flourishing viticulture of the area was noted in a publication by the poet Sidonius Apollinaris. In his work the History of the Franks, Bishop Gregory of Tours wrote of the frequent plundering by the Bretons of the area's wine stocks. The region's vineyards began to thrive in earnest when Henry II Plantagenet, Count of Anjou, became King of England in 1154. He requested that Anjou wines be served in the Royal court.
1532 marked the start of a new era of expansion for the Loire vineyards, with king François I authorising the Breton States to continue trading with other countries. In the 16th century, almost 10,000 barrels of wine passed through the port of Nantes, more than La Rochelle and Bordeaux combined. Dutch traders called for wines specially made to suit the tastes of their clientele, leading to an unprecedented expansion in rural viticulture which was to last until the middle of the 19th century.
The development of new transportation methods, particularly railways, put the Loire vineyards in direct competition with wines from the Midi, and this in turn led to a renewed surge towards quality production. Once the phylloxera crisis was over, quality was again at the top of the agenda, leading to the creation of the famous appellation system in 1936.
In 2000, the Loire Valley is included in UNESCO's World Heritage List (from Chalonnes-sur-Loire to Sully-sur-Loire).
Today, the Loire Valley is the second largest sparkling wine producing region in France after Champagne, and the third largest wine region after the Languedoc-Roussillon and Bordeaux.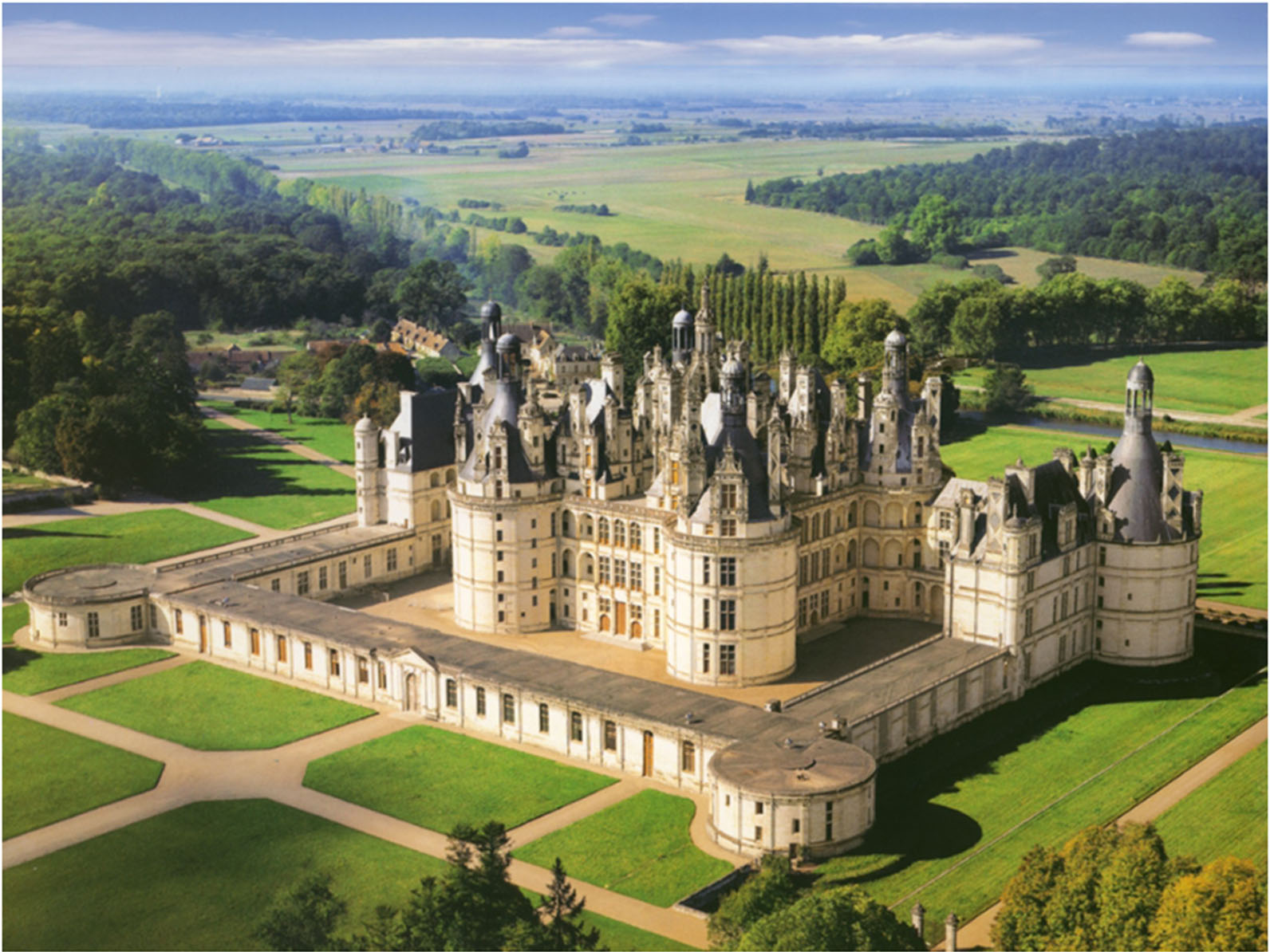 A cool climate and chalky limestone
The Loire Valley benefits from a continental climate with a strong oceanic influence to the West, while the proximity with the waterways adds a few extra degrees to the vineyards along its banks to fully ripen the grapes.
The soils are very varied, either made of clay mixed with flint ("perruches"), clay-limestone ("aubuis"), chalky-limestone ("tuffeau"), sands on clays, but also light gravel and shelly sand.
These climatic differences combined with the different soils determine the selection of grape varieties grown (later ripening varieties in the West and early ripening varieties in the East), and therefore the diversity of wines produced.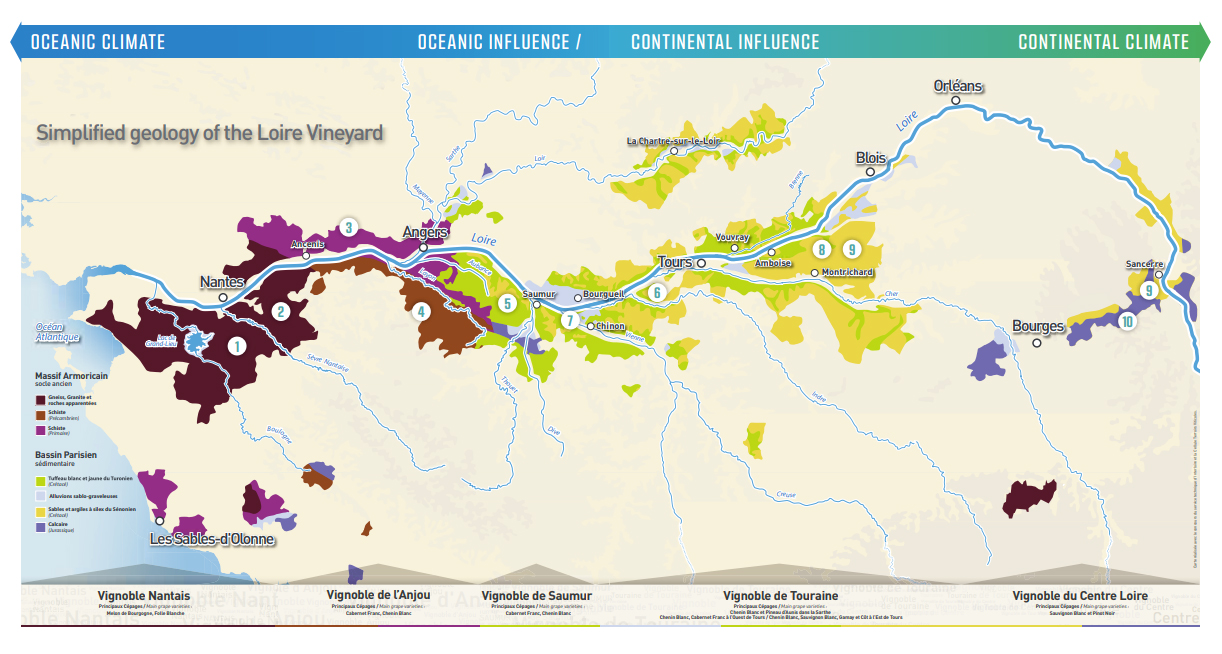 Let's take a closer look at each of the Loire Valley sub-regions, from east to west: Upper-Loire, Centre-Loire, Touraine, Saumur, Anjou and Pays Nantais:
The UPPER LOIRE is located in Auvergne, hundreds of kilometres upstream from the heart of the Loire Valley wine region, just 30km west of the city of Lyon. Their wine style and sandy, granitic soils mean that they have more in common with Beaujolais than they do with any of the other Loire appellations.
Côtes du Forez is a red or rosé wine produced in the Loire department, above Saint-Etienne, at the foot of the Forez mountains by 9 independent winegrowers and a cooperative cellar. Recognized AOC in 2000, this vineyard extends to the east of the Massif Central, over 116 hectares on volcanic soils. The only grape variety allowed in the appellation is Gamay. The annual production is around 1 million bottles. The red wines are dry with ripe black fruits flavors and an intense color. Rosé wines are lively, fruity, persistent and harmoniously structured.
Cotes Roannaise located upstream of the Loire Valley vineyard, this vineyard covers 210 hectares west of Roanne, at the foot of the Madeleine mountains. Recognized AOC since 1994, the main grape variety is Gamay, which produces around 1 million bottles of red wine and 200,000 bottles of rosé each year.
Cotes d'Auvergne, while Puy-de-Dôme cultivated 28,000 hectares of vines for a production of 85 million bottles during the 19th century, the phylloxera seriously impacted the vineyard, gradually but irreparably. Around 2000, there were barely 1000 hectares left. The appellation experienced a revival in 2011 with the recognition of the AOC Cotes d'Auvergne spread over 410 hectares for a production of 1.7 million bottles. The red grape varieties are Gamay and Pinot Noir. For the whites, only one grape variety is allowed: chardonnay.
Saint-Pourçain vineyard covers 640 hectares recognized AOC since 2009. The red wines are made from Gamay and Pinot Noir (2.3 million bottles). The rose wine is made only from Gamay (600 000 bottles). The white wines are made mainly from Chardonnay, supplemented by Tressalier (an indigenous variety cultivated only in Saint-Pourçain) and Sauvignon Blanc (900 000 bottles).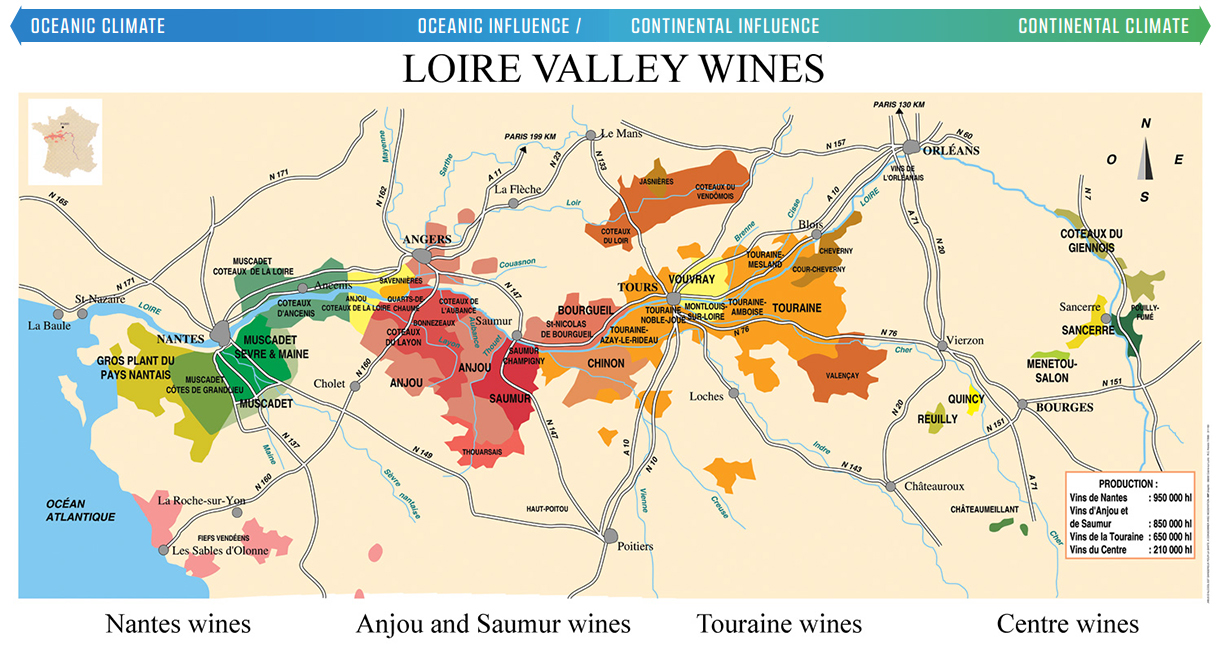 The CENTRE LOIRE as its name implies, is at the exact geographical centre of France. Grapes have been grown here for at least 2,000 years. This is the original home of Sauvignon Blanc in Sancerre the world's most prestigious Sauvignon Blanc wine that sets international standards for the grape. Lesser known but equally fine examples include Pouilly-Fumé, Menetou-Salon, Quincy and Reuilly.
Pouilly-Fumé, is spread over 1,200 hectares, with 120 winemakers annually producing approximately 8.8 million bottles. Pouilly-Fume is exclusively made from Sauvignon Blanc grapes. It should not be confused with Pouilly-Fuissé, a Chardonnay wine from the south of Burgundy. Fume means smoky in French and probably comes from the grey bloom coating these grapes at maturity or may also refer to the gun flint aromas of the wine. The Pouilly and Pouilly-sur-Loire wines are mostly made from Chasselas.
Coteaux du Giennois vineyard covers approximately 130 hectares and produces 900,000 bottles. It was recognized as AOC in 1998. The grape varieties are Pinot Noir and Gamay for red wine (55%); Sauvignon Blanc for the white, the rosés must be made by blending Pinot Noir and Gamay.
Sancerre spread over 3,000 hectares, Sancerre produces about 22 million bottles, mostly white wine from Sauvignon blanc (18M), without malolactic fermentation and little oak influences, typically bone dry, highly aromatic with intense flavors of peaches and gooseberries. Sancerre wine appellation has increased 4 fold over the years and overproduction has introduced a lot of variable quality depending on the producer. The villages of Bue, Chavignol and Menetreol are considered among the best. 20% of the production of Sancerre is red wine made from Pinot Noir (2.5M), light bodied with raspberry notes and a bit of rose too (1.5M).
Menetou-Salon was recognized AOC in 1959. The wine production represents 590 hectares planted with Sauvignon Blanc and Pinot Noir. The white wines (2.5 million bottles) have aromas of citrus, white flowers, pepper, mint. The red wines (1 million bottles) have a ruby color, with aromas of ripe fruit, cherry, plum; the rosé wines (100 000 bottles) have flavors of white fruits and dried fruits, with a fresh and subtle palate.
Quincy is the first vineyard of the Centre-Loire to be recognized AOC in 1936. Today, there are about 250 hectares for a wine production around 1.8 million bottles. Quincy's white wine is exclusively made from Sauvignon Blanc with up to 10% Sauvignon Gris. It is a dry white wine, fine and citrusy with notes of white flowers and pepper.
Reuilly vineyards cover 270 hectares planted with Sauvignon Blanc (white wine), Pinot Noir (red and rosé wines), and Pinot Gris (rosé wine). Reuilly was recognized AOC in 1937 for whites and 1961 for reds. Today there are around 40 producers making 1.8 million bottles annually.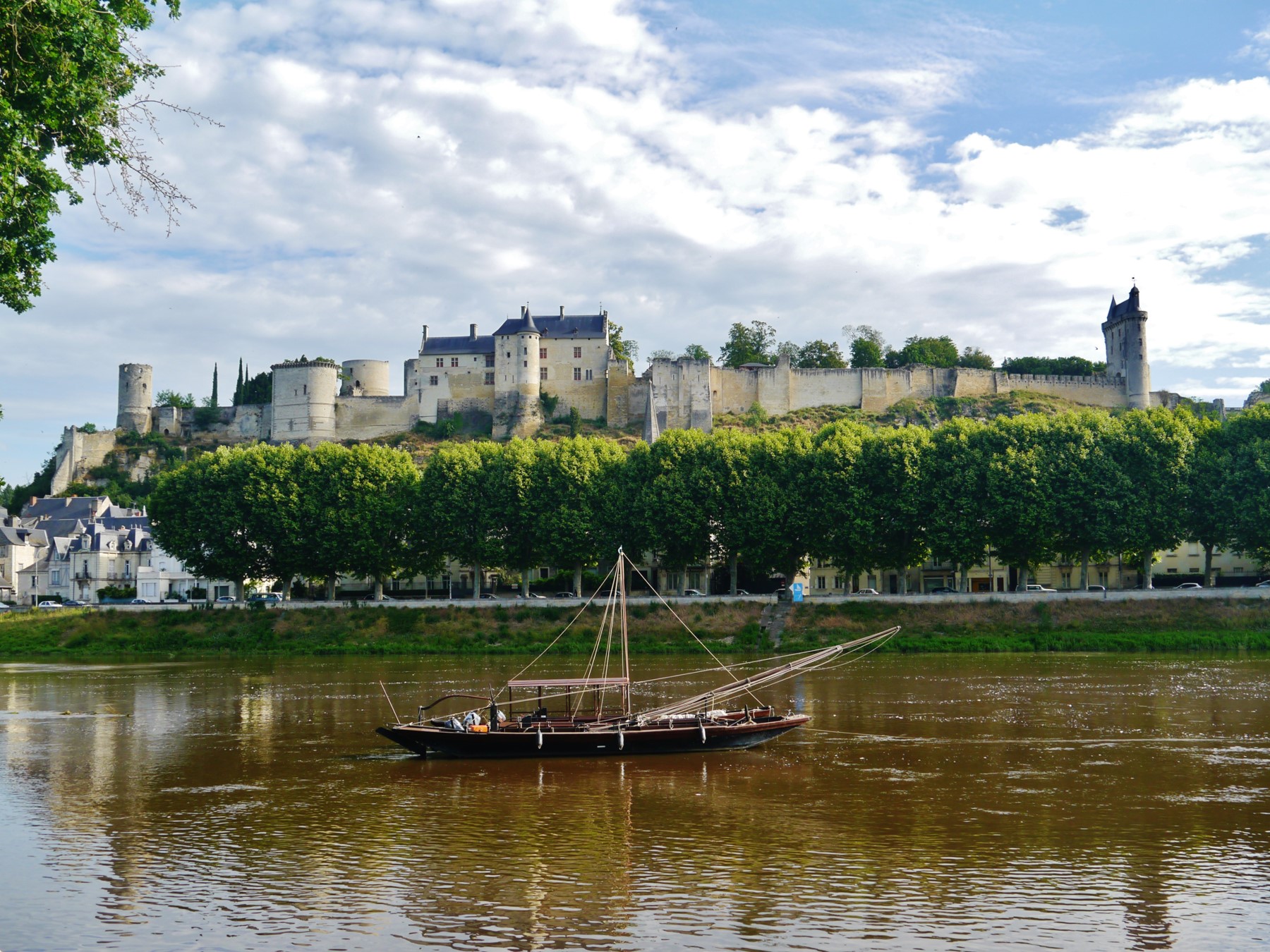 The MIDDLE LOIRE, from Orleans to Angers, sometimes called the "Garden of France" was where kings and nobles built many of the chateaux that make the Loire Valley one of France's most popular tourist destinations. Wines of the region include many famous appellations for still and sparkling wines made from Chenin Blanc, including Vouvray, Montlouis, Saumur and Anjou. Still red wines made from Cabernet Franc in Chinon, Bourgueil, Saint-Nicolas de Bourgueil and Saumur-Champigny. Sweet botritized wines from Chenin Blanc in the Coteaux du Layon, Bonnezeaux and Quarts-de-Chaume.
Orleans was already producing wine in the 6th century, as part of the French royal domain, it was supplying wine to the King's court and Paris in large quantities. Throughout the middle-ages, the transport was favored by the short distance (130 kilometres from Paris). It was badly hit by the phyloxera during the 19th century and the competition from other wine regions during the 20th. Finally recognized AOC in 2006, there are 80 hectares today mostly planted with Chardonnay and Pinot Meunier (with a bit of Pinot Noir and Pinot Gris) for a production of 300 000 bottles only.
Valencay has over 1000 years old history of winegrowing but the appellation was recognized AOC in 2004. The vineyards area is 165 hectares planted with Gamay (75% red and rosé wines) and Sauvignon Blanc (25% white wine), plus a bit of Cot, Pinot Noir, Cabernet Franc & Cabernet Sauvignon. Today's production is around 1 million bottles of red wine, 250 000 bottles of white wine and 100 000 bottles of rose.
Cheverny received AOC status in 1993. The wine region is spread over 530 hectares (3.2 million bottles), the white wines are composed of Sauvignon Blanc, blended with Arbois, Chardonnay or Chenin Blanc. A small proportion is made into sparkling wine. The red wines are composed of Gamay, blended with Pinot noir, Cabernet Franc and Côt. Pineau d'Aunis is added to these grape varieties when making rosés. The white wine made from the Romorantin grapes bear the appellation Cour-Cheverny (54 ha). These white wines have a golden color, the palate is lively and dry, with fruity aromas, honey and acacia.
Touraine AOC, not to be confused with Touraine region, was awarded in 1939. It covers 5,300 hectares and 5 districts: Amboise, Azay-Le-Rideau, Chenonceaux, Mesland, & Oisly. The annual production is about 35 million bottles. The white wines (42%) and sparkling wines (12%) are made from Sauvignon Blanc (80%), Chenin blanc, Chardonnay and Arbois grapes. The red wines (38%) and roses (8%) are produced from Gamay (60%), Cabernet Franc, Cabernet Sauvignon, Côt (aka Malbec), Pinot noir, Pinot Meunier, Pinot gris and Pineau d'Aunis (aka Chenin Noir). The Sauvignon wines are aromatic, lively, they evoke broom, honeysuckle and exotic fruits. The Chenin Blanc is mainly intended for fine bubble wines where it expresses delicate scents of brioche, green apple and honey. The Gamay, often a single grape variety, produces light and frank wines with aromas of red fruits. The blended red wines combine this youthful and fresh side with the structure of other grape varieties. The rosés blends give fresh and delicate wines; Pineau d'Aunis gives a rosé of character with a unique spicy tone.
Montlouis, part of Vouvray until 1938 when it was awarded its own AOC, Montlouis covers 370 hectares planted with Chenin Blanc. The production of 1.8 million bottles (55% sparkling, 45% still) give dry and sweet white wines with straw yellow color, which tends to gold with amber reflections for the sweet wines. White flowers, verbena, citrus fruits and brioche for fine bubbles, Montlouis evolve with notes of almonds, quince, honey and wax, with a marked minerality. Depending on their mellowness, the wines are tender, ample or opulent, but always very fresh.
Vouvray appellation covers 2,000 hectares planted with 100% Chenin Blanc. The production is around 14 million bottles (60% sparkling, 40% still). The terroirs is made of stony slopes interspersed with confluent valleys, and "tuffeau" substrate (white Turonian chalk) covered with "perruche" (flint clays which give the mineral character) and "aubuis" (clay-limestone which brings power and concentration). The considerable lifespan of Vouvray (10 to 40 years) is supported by the perfect storage conditions (temperature and humidity) of the deep cellars dug in the chalk of the hillsides.
Chinon vineyard has an area of 2,300 hectares and a production of 13.5 million bottles, 92% red wine from Cabernet Franc, 8% rose, and white from Chenin Blanc. There are 3 types of soil in Chinon: the alluvial terraces made up of gravel and sand; the hillsides and limestone mounds of the Turonian chalk; and the trays and mounds made up of flint clays and sands. The red Chinon have an intense purple color. The gravel wines are light and delicate, very aromatic (red fruits), pleasant from their earliest youth. The slopes and plateaux of flint clay and chalk give great full-bodied and structured wines that develop into complex aromas of stewed black fruits, sweet spices and game. The Chinon blanc is a very mineral "taffeta wine".
Bourgueil appellation stretches over an area of 1400 hectares planted with Cabernet Franc (up to 10% Cabernet Sauvignon). The AOC was recognized in 1937 and the annual production is about 8.5 million bottles (2% rose). The color is crimson and vibrant, with aromas of cherry, berry, and for older wines, leather and roasting notes. Depending on the type of soil, the palate is either supple and juicy, or dense and fleshy.
Saint-Nicolas de Bourgueil appellation stretches over an area of 1050 hectares planted with Cabernet Franc (up to 10% Cabernet Sauvignon). The AOC was recognized in 1937 and the production today is about 7 million bottles (2% rose). Here, the vineyard is largely open to the Loire which, with the confluence of the Vienne, allows maritime influences to penetrate widely. The red wines are more aromatic and lighter than neighboring Bourgueil with violet, raspberry, licorice and pencil shaving notes.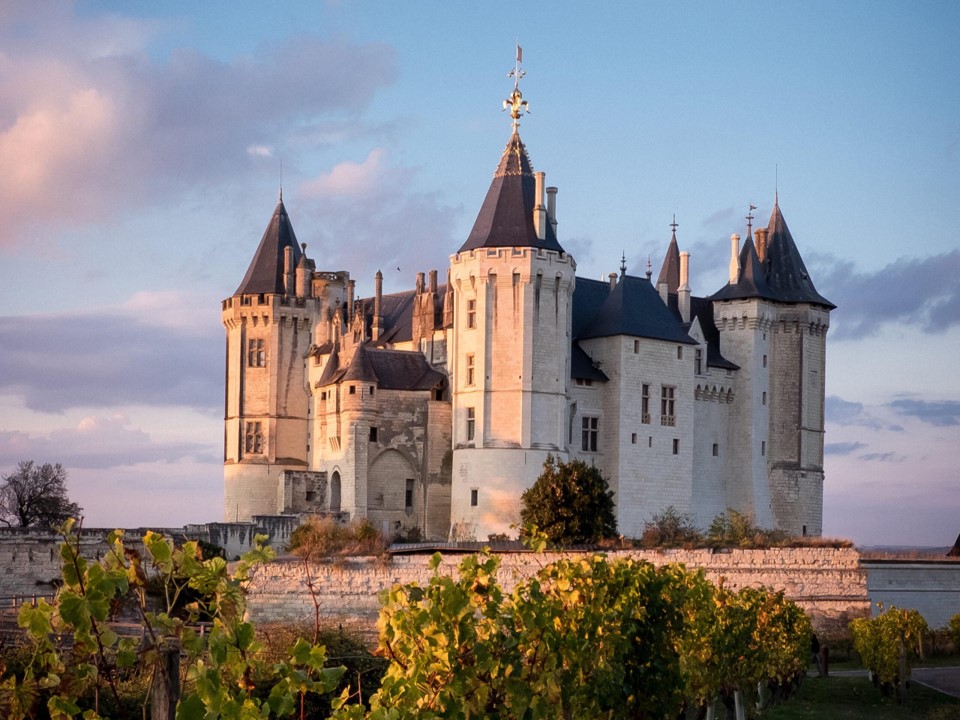 Saumur is a picturesque city dominated by one of the most famous castles in France. The castle, like many of the great châteaux of the Loire Valley, is built with the same tuffeau limestone that underlies the vineyards of the region. Excavations left from building castles left hundreds of kilometres of underground tunnels that now serve as cellars for the Chenin Blanc based sparkling wines of the Loire. Saumur was an important place of wine trading since the 12th Century and the Capital of the Huguenots under Henri IV. Today, most of the negociants still have their headquarters in this sector.
The Saumur AOC was recognized in 1936 for still wines, the vineyard is planted with 1,000 hectares of Cabernet Franc, Cabernet Sauvignon and Pineau d'Aunis, and 400 hectares of Chenin Blanc. The annual production is 6.8 million bottles of red wine and rose with aromas of red fruits and flowers (iris, violet), fresh and balanced, plus 2.6 million bottles of white wine with aromas of white fruits and white flowers.
The Saumur-Champigny denomination can be added for the greatest red wines, from demarcated areas of 8 municipalities (1500 ha) close to Saumur on the upper Turonian plateau (chalky-limestone).
The Saumur Brut AOC was recognized in 1957, it is the 3rd largest sparkling wine region after Champagne and Alsace. The vineyard is about 1400 hectares planted with Chenin Blanc (> 60%), Sauvignon Blanc (< 10%) and Cabernet Franc. The production is about 12 million bottles (including 10% sparkling rose). Aromas of white fruits, lemon, almonds, hazelnuts and vanilla for the brut and red fruits for the rosés, fine, fresh and elegant.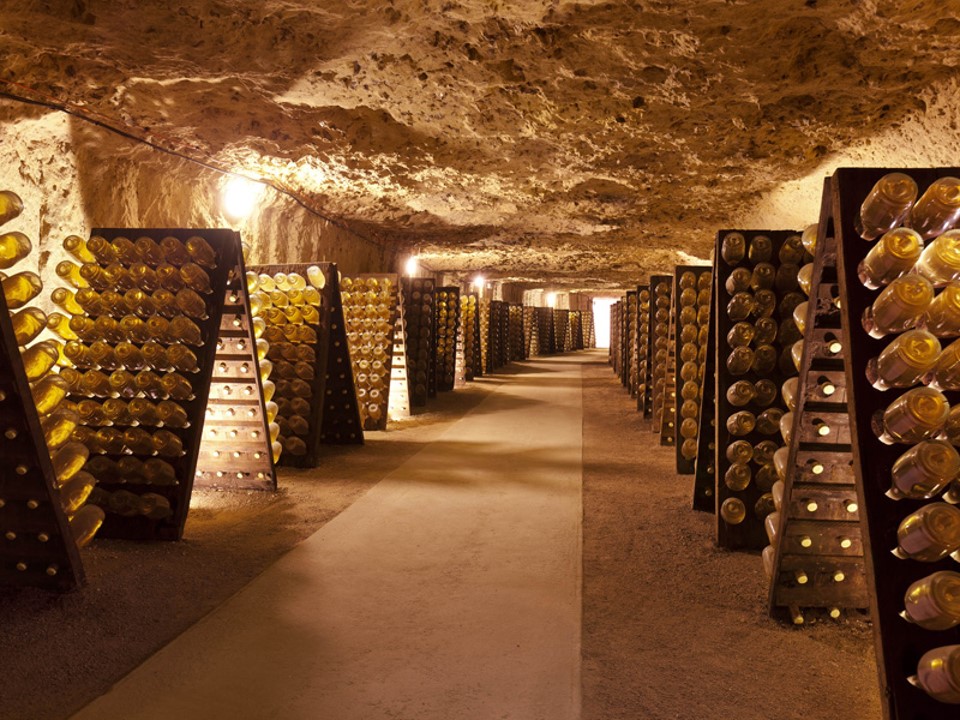 The ancient Duchy of Anjou was once a political power that rivalled the Kingdom of France for wealth and importance. Anjou is located between 2 large major geological structures: the Armorican massif to the west and the Paris basin to the east. There are 3 main geological types in Anjou:
a) "Anjou noir" is composed of slate and carboniferous schists to the west of Angers. It is the terroir of the great village wines of the Coteaux-du-Layon which give their inimitable character to Chenin Blanc.
b) "Anjou blanche" on Tuffeau in the Saumur region, to the east, marks the southwestern end of the Paris basin.
c) The Loire river banks, bringing its share of sand and gravel according to its thousand-year-old floods, constitutes the link between the east and the west.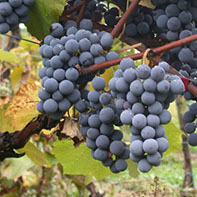 Gamay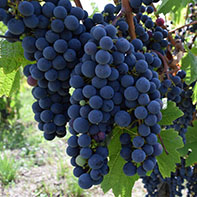 Cab. Franc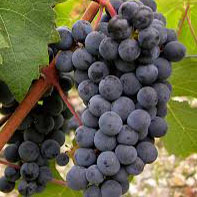 Cab. Sauv.
Anjou landscapes are therefore all the more varied and encompasses several AOCs responsible for a broad spectrum of wines styles, including still red (31%), white (18%), rosé (35%) and sparkling wine (16%) produced with varying levels of sweetness and from different grape varieties.
The grape varieties for regional Anjou Blanc are Chenin (at least 80%), Chardonnay and Sauvignon Blanc as accessory grape varieties. For regional red Anjou, Cabernet Franc and Cabernet Sauvignon are authorized as the main grape varieties, Pineau d'Aunis and Grolleau as accessory grape varieties. Gamay is the only grape variety authorized for Anjou-Gamay (370 ha). Cabernet d'Anjou (2600 ha) and Rose d'Anjou (2200 ha) are specific appellation for the roses.
A step up the ladder of quality, Anjou-Villages (199 ha, 600 000 bottles), and Anjou-Villages Brissac (100 ha, 350 000 bottles), are exclusively red wine from Cabernet Franc and Cabernet Sauvignon. Deep red, complex aromas with black fruits and undergrowth. These are full-bodied wines with silky tannins, suitable for aging.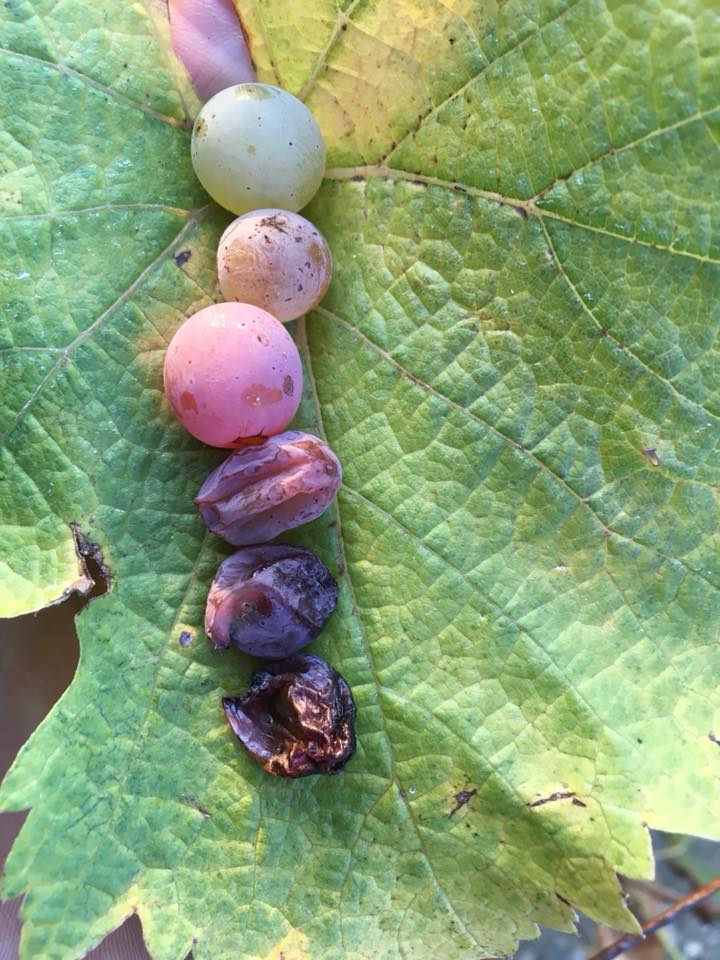 Savennières classified AOC in 1952, 120 hectares, 375 000 bottles, is one of the 3 Grand Crus of Anjou, made exclusively from Chenin Blanc. These are dry white wines, yet tender and well structured, rich in aromas of lime, anise, grapefruit, pear, honey and quince. Marked with a strong minerality, often austere in its youth, it evolves on hazelnuts, sweet spices and candied notes (grapefruit, lemon). There are 2 denominations perched on rocky spurs overlooking the river: La Roche-aux-Moines (33 ha) and La Coulée-de-Serrant (7 ha), both have their own AOC since 2011.
Coteaux-de-l'aubance, this area of around 180 hectares is the result of the erosion of the Loire and its tributary of Aubance, forming many small hillsides with varied exposures, on shallow schist soils. Those soft to mellow white wines are smoother than those of Coteaux du Layon.
Coteaux-du-layon demarcated areas, south-west of Angers, correspond to shale and sandstone terraces of the Armorican basement. The climate is particularly dry oceanic type. The well exposed and ventilated hillsides favor the systematic obtaining of overripe harvests by successive sorting of botrytised bunches. The late harvests have been recorded since the 18th century, classified AOC in 1950. Today, it covers 1400 hectares and produce 6 million bottles exclusively made from Chenin Blanc. The color of the wines is sustained yellow with green reflections for young wines to golden yellow with amber reflections for aged wines. These wines present characteristic aromas of quince, pear and honey. The palate is round and full, balanced by a refreshing liveliness. These wines have a good aging potential for 20 years, or even a century for exceptional vintages.
Bonnezeaux ranks among the exceptional terroirs within the Coteaux-du-Layon, around the village of Thouarce (120 ha). Bonnezeaux is a great mellow wine, sometimes syrupy, rich in fruit, opulent, sappy and fragrant (acacia honey, orange blossom, lime). Annual production of 250 000 bottles only.
Chaume, ranks among the exceptional terroirs within the Coteaux-du-Layon. It covers an area of 70 hectares in the commune of Rochefort-sur-Loire. Classified AOC in 1950 and Premier Cru in 2003. Annual production of 180 000 bottles. A great mellowness that reveals the full expression of overripe Chenin: intense nose, opulence and liveliness.
Quarts-de-chaume ranks among the exceptional terroirs within the Coteaux-du-Layon. It covers an area of 50 hectares in the commune of Rochefort-sur-Loire. The legend says that the Quarts de Chaume, corresponded to the best wines of the Chaume which was reserved for the quarter to the landlord. The mesoclimate is exceptional: the wide meander of the Layon, the source of morning fogs, favors the establishment of noble rot (Botrytis Cinerea). Classified AOC in 1954 and awarded Grand Cru in 2011. Annual production of 100 000 bottles only. Intense and complex nose, aromas of flowers, white fruits, candied citrus fruits and exotic fruits in the first years, they evolve towards notes of precious wood, honey, toasted almonds, and are generally marked with a strong minerality. Powerful and opulent on the palate with a lot of fat, it makes these sweet wines models of balance between mellowness and liveliness.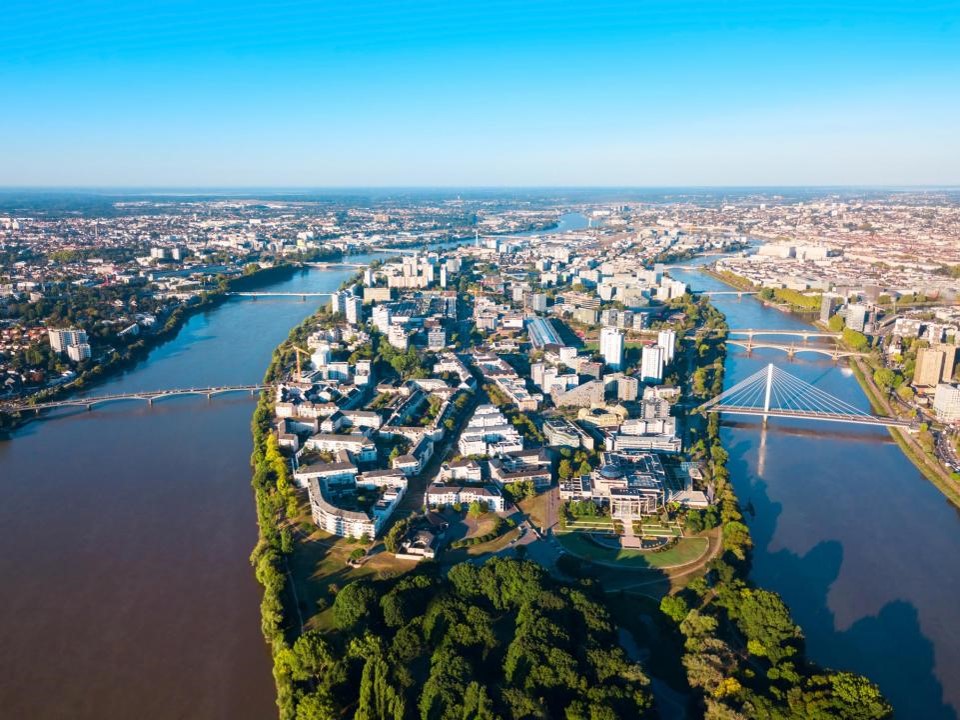 The LOWER LOIRE, or Pays Nantais, on the Atlantic coast of Brittany, near the city of Nantes has been producing wine since the Roman era. The region is known for Muscadet (made from the Melon de Bourgogne grape variety), the largest white wine appellation in France (13 000 ha), and the ultimate crisp, dry, seaside wine.
Coteaux-d'Ancenis is covering an area of 160 hectares for an annual production of 1.2 million bottles, essentially red, a bit of rosé and white wine. The grape varieties are Gamay (80% of the vineyard), Cabernet Sauvignon, Cabernet Franc, Chenin Blanc and Pinot Gris. The Roman Emperor Probus authorized the cultivation of vines in the region 2000 years ago. The AOC was awarded in 2011.
Muscadet AOC consists of an area of 3,600 hectares planted with the Melon de Bourgogne grape to produce exclusively white wine. There are several denominations, Muscadet-Sèvre-et-Maine (8,800 ha), Muscadet-Coteaux-de-la-Loire (190 ha), Muscadet-Côtes-de-Grandlieu (300 ha). Muscadet is a dry wine with floral and fruity aromas which can be aged on lees to gain a "pearl" effervescence.
Gros-Plant-du-Pays-Nantais represents a production area of 1,200 hectares planted with the Folle Blanche grape variety (also present in Armagnac for brandy production). It was the largest VDQS in France with 10 million bottles of white wine until the AOC was awarded in 2011. Summer wines by excellence, it can be aged on lees like Muscadet, but the wine is often drier with a certain fresh acidity; it is characterized by a pale color with green reflection and gives off predominantly floral aromas white flower, hawthorn, citrus. They are ideally paired with seafood, fish, poultry, cold cut platters and goat cheeses.
Fiefs-Vendéens between Nantes and La Rochelle, belonged to the Cardinal de Richelieu who gave it away in the 17th It consists of 500 hectares and a production of 3.5 million bottles spread across 5 areas: Mareuil (330 hectares), Brem (80 hectares), Vix (40 hectares), Chantonnay (25 ha) and Pissotte (25 hectares). The grape varieties used for red and rosé wines are Gamay, Pinot Noir, Cabernet Franc, Cabernet Sauvignon and Negrette; for white wines the grapes are Chenin blanc, Sauvignon, Chardonnay and Melon. It became an AOC in 2011.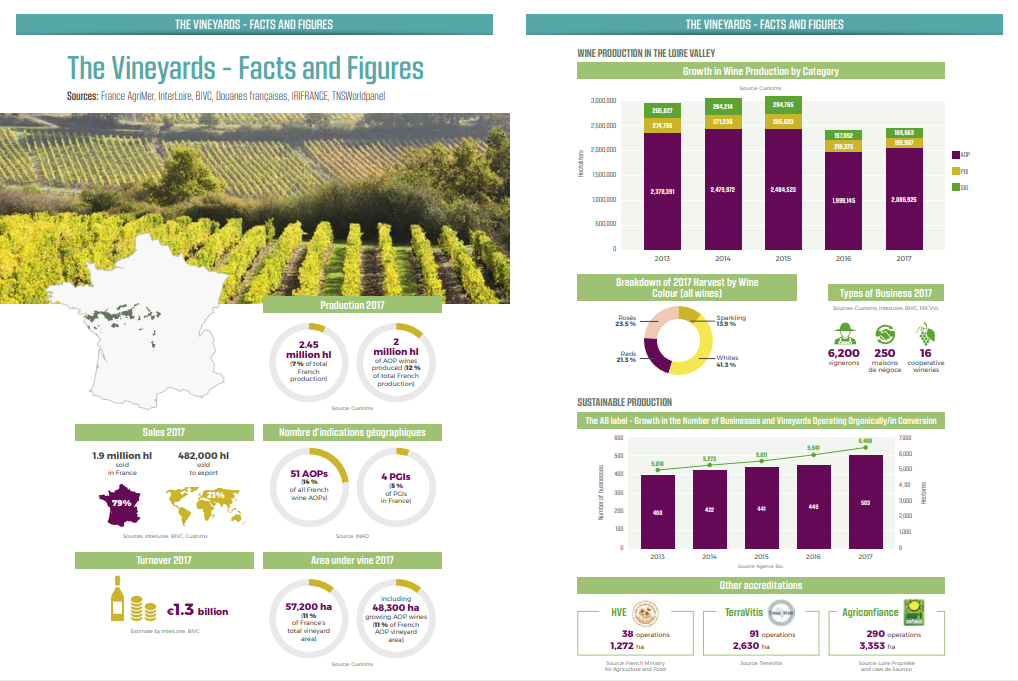 Loire Valley Key Figures
Vineyards = 70 000 Hectares including 57 000 hectares of AOPs.
55 appellations : 51 AOPs. 4 IGPs.
245 million litres harvested in 2017 (= 300 million bottles produced).
Average Temperature: 11.6°C. Average Rainfall: 665mm. Average hours of sunshine: 1439h.
Colours: 14% Sparkling, 41% White, 23% rosé, 22% Red.
8 main grape varieties (Cabernet Franc > Melon de Bourgogne > Sauvignon Blanc > Chenin Blanc > Gamay > Chardonnay > Grolleau > Pinot Noir.) But also in some areas, Romorantin (Cheverny), Folle Blanche (Gros Plant Nantais), Côt (Touraine), Cabernet Sauvignon (Brissac) and Pineau d'Aunis (Vendome).
+ 6 500 wine growing businesses produce Loire Valley Wines.
We hope you enjoyed reading this blog and learned a thing or two about this beautiful wine region, feel free to browse our Loire Valley wine selection here : https://www.magnumopuswines.com/collections/loire-valley
Cheers!
Comment