Castilla La Mancha wine region
Jul 18,2023 | Magnum Opus Wines
Castilla La Mancha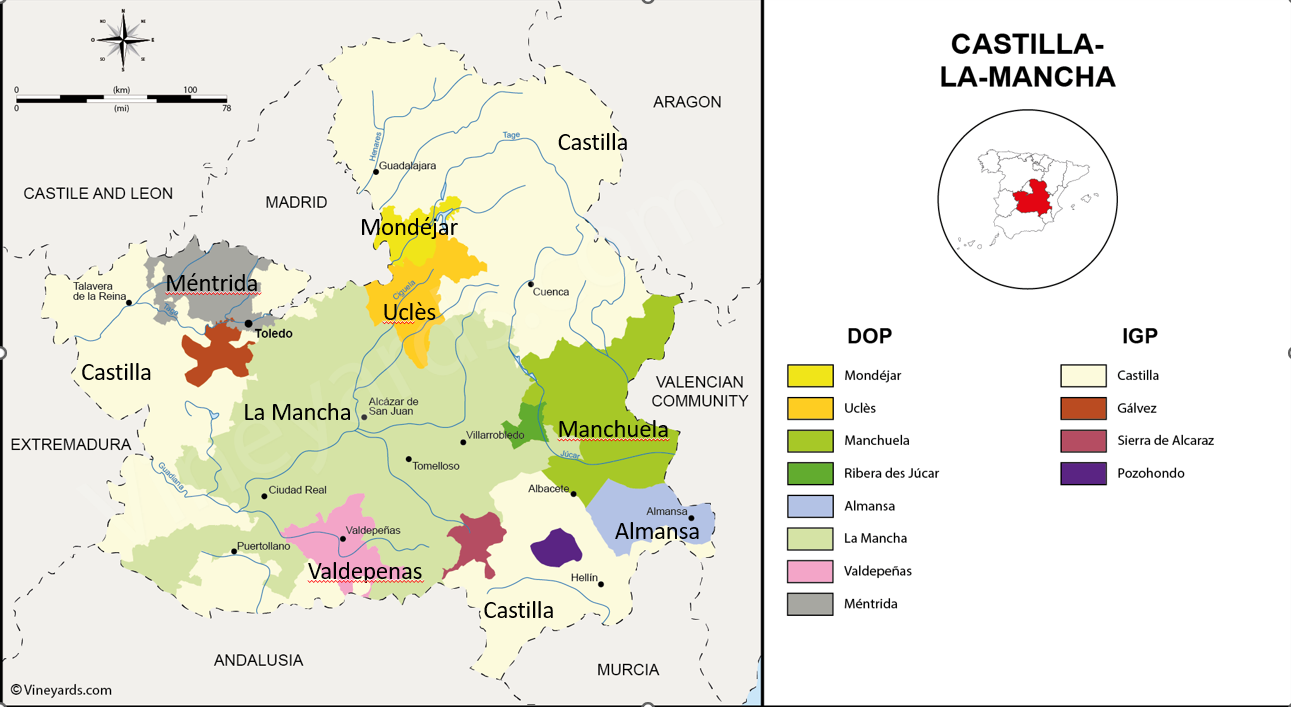 Castilla–La Mancha is an autonomous community of Spain, southeast of the country's capital Madrid. Comprising the provinces of Albacete, Ciudad Real, Cuenca, Guadalajara and Toledo, it was created in 1982. The government headquarters are in Toledo, and its largest city is Albacete (population : 175,000).
The region largely occupies the southern half of the Iberian Peninsula's Inner Plateau (Meseta Central), including large parts of the catchment areas of the Tagus, the Guadiana and the Júcar, while the northeastern relief comprises the Sistema Ibérico mountain massif.
It is bordered by Castile and León, Madrid, Aragon, Valencia, Murcia, Andalusia, and Extremadura. It is one of the most sparsely populated of Spain's regions.
An increasing number of top quality wines are appearing, but the region has traditionally been known as a source of low-quality bulk wine. Total vineyard area is about 450,000 hectares for a production of 1.3 billion litres, a third of Spain's wine output.
Castilla-La Mancha is home to 9 Denominación de Origen appellations (La Mancha, Almansa, Jumilla, Manchuela, Mentrida, Mondejar, Ribera del Jucar, Ucles, and Valdepenas) including world's largest, La Mancha. It is also blessed with numerous Vinos de Pago estates, including the very first, Dominio de Valdepusa.
Since Spain joined the European Union in 1986 the image of Castilla-La Mancha's wines has steadily improved.
DOP La Mancha
La Mancha is a DO established in 1932 with over 160,000 hectares planted to vines, and is the largest continuous vine-growing area in the world. To put the size of DO La Mancha into context, the number of hectares under vine is larger than all of Australia's vineyards combined (146,000 Ha).
Average elevation here is about 700 meters and it's sunny (3000h) and dry (300-400mm). The DOs here are all cut off from both the Atlantic and Mediterranean seas, but the altitude is more than enough to bring relief to the vines in the form of cool nights, which help offset daytime temperatures
The climate is continental and ranges from extremes of -10°C in winter up to 40°C in summer. As such, the risk of spring frost is high, especially for early budding variety such as Tempranillo. Summer drought can be a real concern, alleviated somewhat by the expanded use of irrigation.
Regardless of location however, all of the region's DOs enjoy low fungal disease pressure and plenty of sun during the growing season, providing for consistent crops of ripe, healthy grape.
To survive these arid conditions, vines are spaced far apart and grow close to the ground. As a result, bush vines with their shade-providing canopies along with planting densities as low as 1,200 vines per hectare, are common sights.
The soil structure is very homogenous throughout the region and tends to be flat. It is formed of reddish-brown sandy clay, which is poor in organic material and rich in lime and chalk. Strata of lime are common and are often broken to allow the roots of the vines to pass through.
56% of production is red: Tempranillo aka Cencibel (44%), Syrah (5%), Garnacha (4%), Cabernet Sauvignon (4%), Merlot (2%).
39% of production is white : Airen (24%), Viura aka Macabeo (5%), Verdejo (4%), Sauvignon Blanc (3%), Chardonnay (2%). Airén continues to represent the majority of plantings, and while it can produce perfectly enjoyable whites in the right hands, much of is distilled into grape spirit and sent South to Jerez.
50% of La Mancha's vineyard is certified organic, well over national average (13%), followed by Catalonia (15%) and Valencia (10%).
DOP Vinos de Madrid
Vinos de Madrid is a Spanish Denominación de Origen Protegida (DOP) acquired since 1990, located in the southern part of the region of Madrid. It is divided into 4 sub-zones : Arganda, Navalcarnero, and San Martín, located in a semi circle in the southern suburbs just 15km of the city centre, plus the newly added El Molar, north of Madrid. Each of which produce different types of wine.
While Tempranillo represents the majority of plantings in the Arganda subregion in the southeast, Garnacha is the dominant grape in all other subregions, including El Molar in the north, Navalcarnero in the south, and especially San Martín de Valdeiglesias in the west, this last subregion has seen its star rise of late along with the celebrated Garnacha de Gredos wines, with vineyards located in the eastern foothills of the Sierra de Gredos mountains, offering some of the highest elevations in the DO (800m asl).
Vinos de Madrid DOP is approximately 9000 hectares for an annual production of 3 million litres.
DOP Cebreros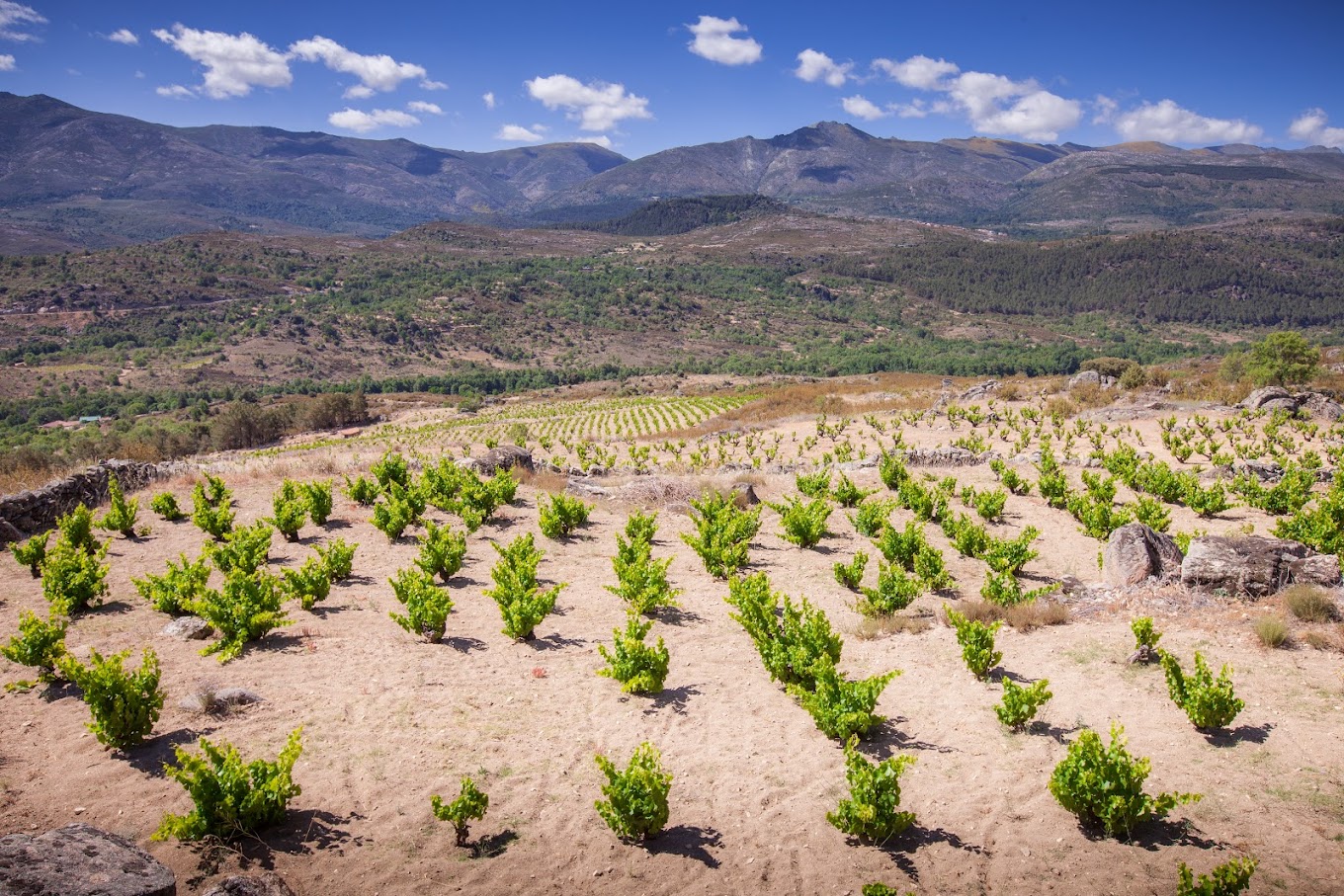 This is the one of the youngest DOPs in all of Spain, created in 2017 with fewer than 15 wineries. Cebreros is located in southeast Ávila (Castilla y León). Garnacha represents 85% of plantings, all of which are located entirely within the Sierra de Gredos. These constitute some of Spain's highest vineyard sites, reaching up to 1,200m (3,940ft). In some years this altitude can make it difficult to achieve full ripeness given Garnacha's long growing cycle, yet at the same time it brings incredible freshness and tension to the resulting wines. Varietal bottlings are the most common.
DOP Méntrida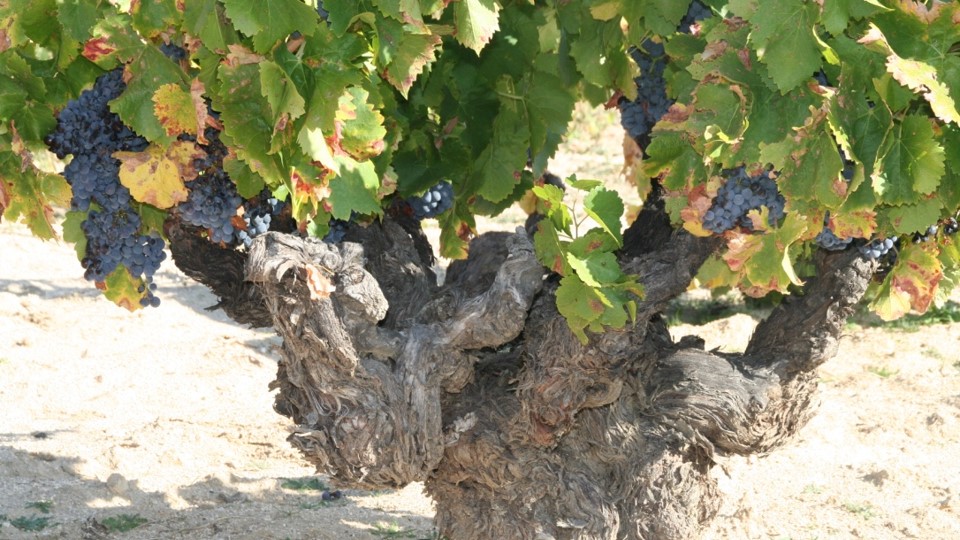 Méntrida is a Spanish Denominación de Origen Protegida (DOP) for wines produced in the northeast corner of the province of Toledo and which is divided into 3 distinct areas: Talavera, Torrijos and Sagra-Toledo, with over 26,000 hectares under vines, the majority (71%) being in Torrijos.
Wine has been produced in this region since at least the 16th century. For many centuries its main market was the city of Madrid though at the end of the 19th century wines were exported abroad and participated in international trade fairs.
The climate is continental (long hot summers and cold winters) with extreme temperature variations over the course of the year: around 40 °C in summer and below zero in winter, with many days of frost.
The soils are sandy-clay with an average loose consistency. They are poor in nutrients and retain the available moisture well. The vineyards are mainly at a height of between 400 and 600 metres (1,300 and 2,000 ft) above sea level.
Méntrida produces mainly red wines as the red grape variety Garnacha represents over 80% of the grapes planted.
Red: Cabernet Franc, Cencibel/Tempranillo, Cabernet Sauvignon, Garnacha, Graciano, Merlot, Petit Verdot, and Syrah.
White: Albillo, Moscatel de Grano Menudo, Chardonnay, Sauvignon Blanc, Verdejo, and Viura / Macabeo.
The vines are planted mainly as low bushes (en vaso) although new vineyards with irrigation tend to be planted on trellises. The planting density varies between 1,100 and 2,500 vines/ha.
DOP Valdepeñas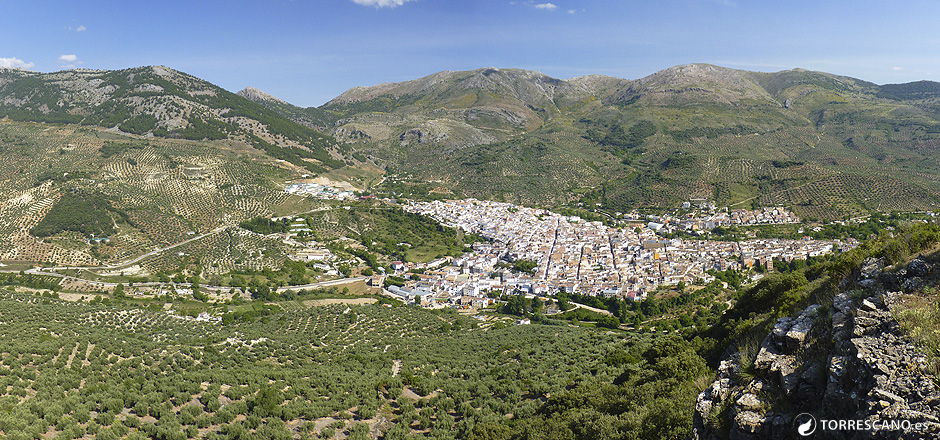 At the southern tip of the southern plateau lies DO Valdepeñas, situated on a small plain separated from Andalucía to the south by the Sierra Morena mountain range. The hot continental climate here is similar to that of La Mancha. Having said that, the southern portion of the Meseta tilts slightly upwards as one
reaches Valdepeñas, and the average elevation of vine plantings increases to between 700 and 800m asl.
This additional altitude, along with a higher percentage of water-retaining limestone soils, has made it somewhat easier for local vinegrowers to mitigate the more extreme aspects of their climate.
Of the 12 authorized grape varieties, Airén represents 95% of white plantings while Tempranillo represents 90% of red plantings. The remaining grapes are a mix of native Spanish varieties such as Macabeo, Verdejo, and Garnacha, along with international ones such as Chardonnay, Sauvignon Blanc, Cabernet Sauvignon, and Merlot. Despite being dwarfed in size by its northern neighbour, Valdepeñas is home to several of Spain's largest wine companies, with extensive portfolios that have a strong presence in export markets worldwide.
DOP Manchuela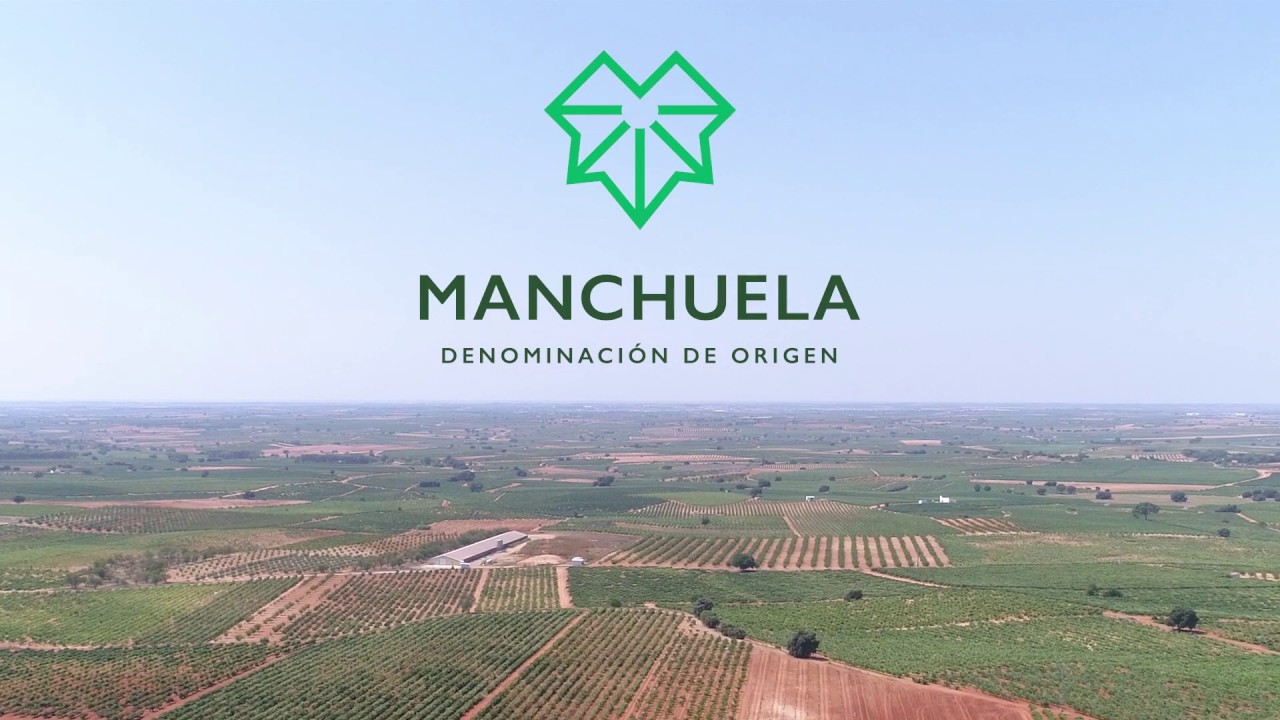 Manchuela is a Spanish Denominación de Origen Protegida (DOP) for wines located in the historical Manchuela comarca, in the east of the provinces of Albacete and Cuenca, between the valleys of the Rivers Júcar and Cabriel. It was originally part of a much larger La Mancha DOP and became a separate DOP in 2004. It is surrounded on 3 sides by other DOPs: La Mancha to the west, Utiel-Requena to the east and Jumilla to the south.
La Manchuela DOP is the seventh DOP to be created in the region of Castile-La Mancha. It includes over seventy municipalities, including Albacete itself and Motilla del Palancar in Cuenca.
The climate is continental (long hot dry summers, cold winters) influenced by the nocturnal moisture bearing winds from the Levant, which help keep the mean annual temperature down to 25°C. Temperatures in winter rarely fall low enough to cause frost. Humidity is very low and virtually no rainfall between the months of May and September. The soil is lime-bearing clay and the vineyards are at an altitude of 600 – 700 m above sea level. There are two large reservoirs just to the north of the area which are used for irrigation of the vines.
The total vineyards area is about 6,700 hectares for an annual production around 5 million litres.
DOP Almansa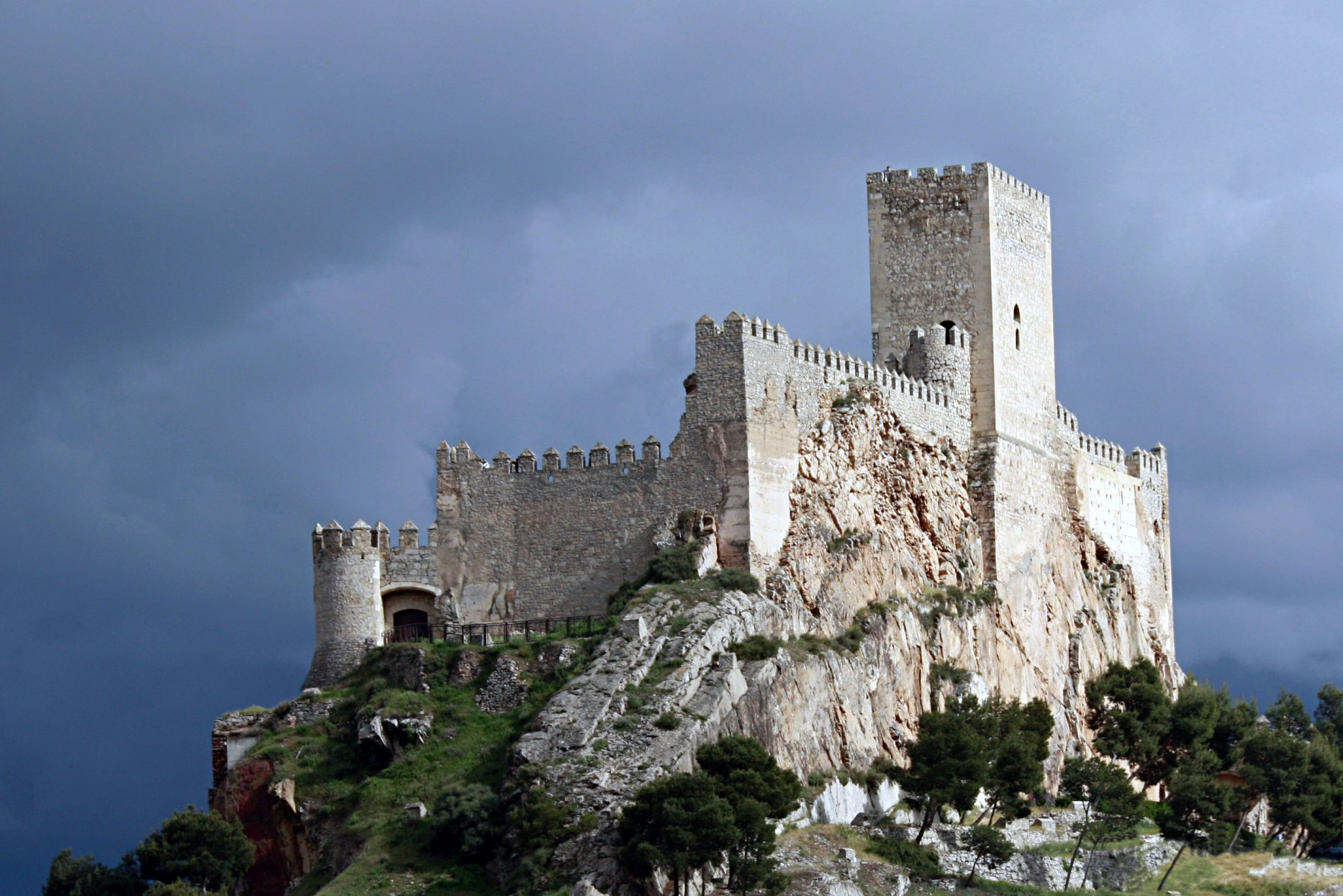 Almansa is a Spanish Denominación de Origen Protegida (DOP), known for its red wines, located in the southeast of the province of Albacete, in the transition zone between the high central plateau (La Mancha) and the Mediterranean Sea.
During the Middle Ages, Almansa was a frontier region between Moorish and Christian kingdoms. Almansa Castle (Castillo de Almansa) was built by the Moors to protect the Vinalopo Valley (Valle de Vinalopó) which was for a long time the frontier between the Christian kingdoms of Castile and Aragón.
The climate is continental (long, hot summers, cold winters). Rainfall is sparse (350 mm per annum) and sporadic usually in spring and autumn in the form of violent storms, often in the form of hail. Temperatures can reach 38°C in summer and -6°C in winter.
Most of the 7,200 hectares vineyards are on flat land at altitudes of between 700 and 1000 m above sea level, comprising permeable lime-bearing soils that are poor in nutrients. Planted with Monastrell, Cencibel, Garnacha Tintorera, Garnacha, Cabernet Sauvignon, Merlot, Syrah, Petit Verdot for reds. And for white: Verdejo, Chardonnay, Sauvignon blanc, Moscatel de Grano Menudo.
Annual production is around 4 million litres.
Vino de Pago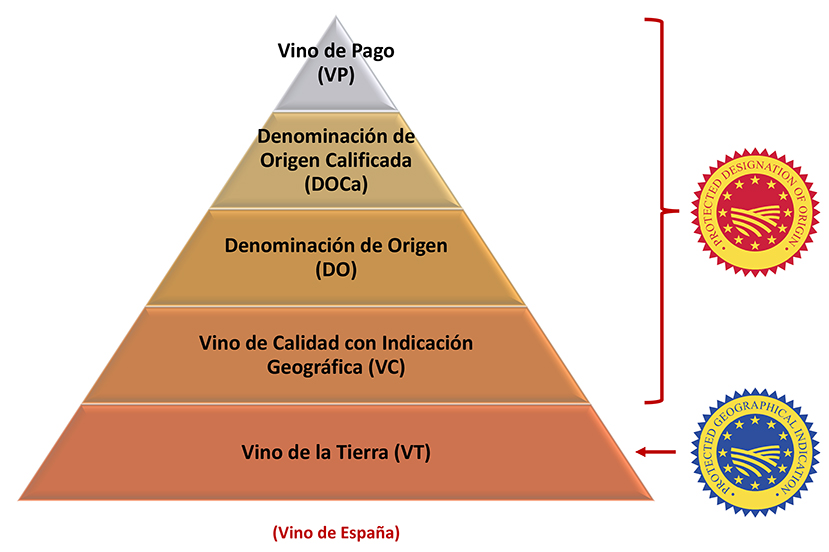 The real interesting wine comes from old vine Tempranillo and Garnacha growing in the hills.
In fact, there are many designated vineyard sites here, called "Vino de Pago" which show top quality.
Vino de Pago is a classification for Spanish wine applied to individual vineyards or wine estates, unlike the DOP or DOCa which is applied to an entire wine region.
The Vino de Pago was introduced in 2003 to help further improve the quality of Spanish wine.
As of 2021, there were 20 Vinos de Pago: 12 In Castilla-La-Mancha, 3 in Navarra, 3 in Valencia, 1 in Aragon and 1 in Toledo.
The quality requirements for a Vino de Pago correspond to those for a DOCa wine, and wine estates that are classified as Vino de Pago are subject to separate requirements rather than those of the wine region where they are located.
La Mancha Excellent is a new classification which can be reached by maximum quality wines limited to 1% of the year of its harvest and cannot exceed 50,000 bottles per winery. The applicant wine must undergo 4 valuation tastings and pass all of them with a score higher than 85 points to obtain "La Mancha Excellent" guarantee seal.
VDLT Castilla
Castilla is a Spanish geographical indication for Vino de la Tierra wines located in the autonomous region of Castilla-La Mancha. Vino de la Tierra is one step below the mainstream Denominación de Origen indication on the Spanish wine quality ladder.
The area covered by this geographical indication comprises all the municipalities in Castilla-La Mancha. It acquired its Vino de la Tierra status in 1999.
We sincerely hope that you enjoy reading this blog and learned a thing or two about Castilla La Mancha wine region. Feel free to browse our wine selection from this beautiful region here: https://www.magnumopuswines.com/collections/castilla-la-mancha
Cheers!
Comment