Castilla y Leon Wine Region
Jun 12,2023 | Magnum Opus Wines
Castile and León is the largest autonomous community in Spain in terms of area, covering 94,222 km2.
It was created in 1983 by the merging of the provinces of the historic region of León: León, Zamora and Salamanca with those of Castilla La Vieja (Old Castile): Ávila, Burgos, Palencia, Segovia, Soria and Valladolid.
The Duero River Valley consists of a high altitude (600m-1000m), landlocked stretch of vineyards running from the province of Zamora near the Portuguese border in the west, to the province of Soria in the east.
As the Picos de Europa Mountain Range to the north cuts the region off from any Atlantic influence, the entire valley experiences a dry, hot continental climate. This means that while the area's wine regions are susceptible to spring frost and summer drought, they also enjoy low fungal disease pressure and abundant sun during the growing season, providing for regular harvests of ripe healthy grapes.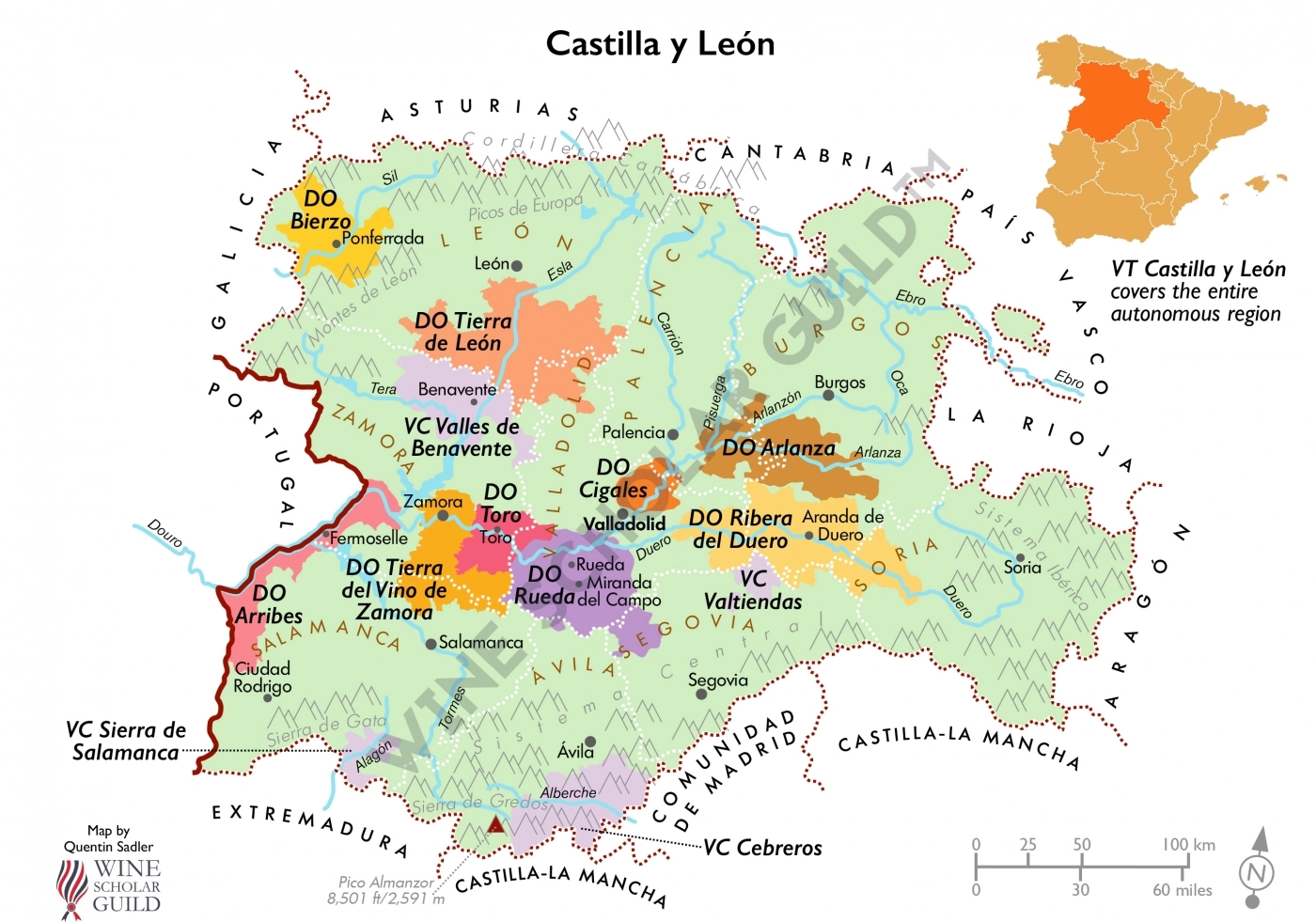 Bierzo
Bierzo is a Spanish DOP (1989) for wines located in the northwest of the province of Castile and León and covers about 2,300 hectares around the city of Ponderrada. Annual production is around 8 million bottles (34hl/ha).
Already 2.000 years ago, quotations from Plinio el Viejo refers to the existence of vineyards in Bierzo region, which is originally derived from the pre-Roman city Bergidum
The area consists of numerous small valleys in the mountainous part (Alto Bierzo) and of a wide, flat plain (Bajo Bierzo). Altitude range from 400 to 800 m.
The Bierzo DOP has a special macroclimate which is beneficial for viticulture. On the one hand it is similar to the climate of Galicia with regard to humidity and rainfall (700 mm), and on the other hand, it is also similar to the hot, dry climate of Castile. The low altitude also helps to prevent late frosts and means that the grape harvest is usually about 1 month earlier than in Castile. The average annual temperature is around 12°C, with the minimum in winter of 3°C and maximum in summer of 24°C. The vines receive about 2,200 hours of sunshine per annum.
The soils in the mountains consist of a mixture of fine elements, quartz and slate. The vineyards are planted mainly on fertile land, humid, dark soil which is slightly acidic (5.5 pH) and low in carbonates and lime.
The wines produced under the Bierzo DOP must be made only with the following varieties:
Red grapes: Mencía (74%) and Alicante Bouschet / Garnacha Tintorera (2%).
White grapes: Palomino (17%), Godello (4%), Doña Blanca (3%), and Malvasía (0.1%).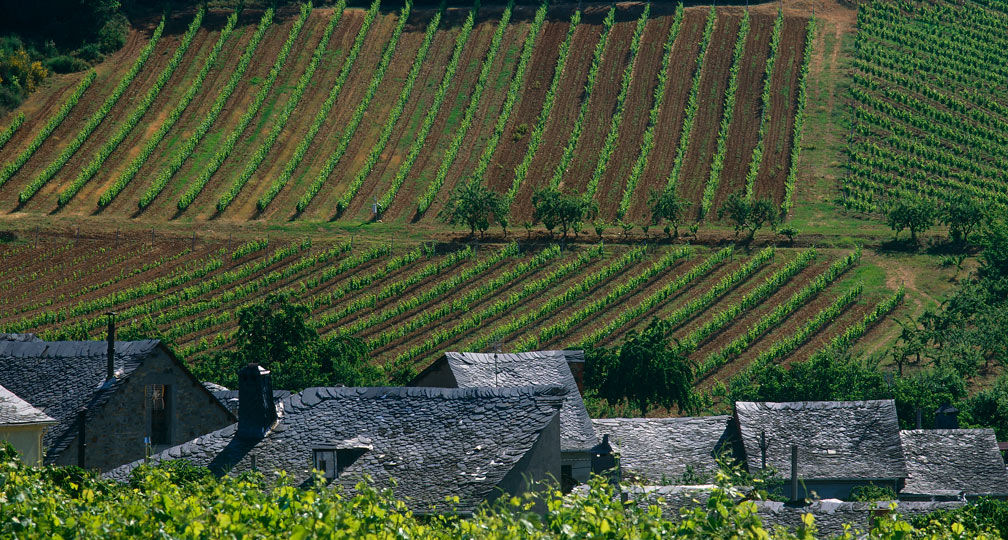 Tierra de Léon
Tierra de Léon is a Spanish Denominación de Origen Protegida (DOP) for wines located in the south of the province of León, which covers an area 1300 hectares on alluvial soil, poor in organic matter with good drainage, at an altitude of approximately 900 m above sea level.
The area has a continental climate (long, hot dry summers; cold winters). Temperatures in winter often fall below 0°C and there is frequent frosts and fog.
Grape cultivation was probably introduced by the ancient Romans. The area benefited from being at the crossroads of two important routes: The Way of Saint James, the pilgrimage route running east to west from France to Santiago de Compostela, and the Ruta de la Plata, running north–south between the silver mines of the Cantabrian coast and the southern port of Cadiz.
In 1985, a group of producers applied for DO status based on the promotion of the local autochthonous grape variety known as Prieto Picudo. It is a grape variety that delivers deeply colored wines, with a clean acidity and high levels of sugar and tannin. This concentration gives Prieto Picudo wines a unique character and taste.
The area attained its D.O. status on 27 July 2007. Annual production is around 5 million bottles.

Arribes
Arribes is a Spanish Denominación de Origen Protegida (DOP) for wines located in the southeast of the province of Zamora and the northeast of the province of Salamanca, along the border with Portugal on the banks of the River Duero. The name Arribes derives from the Latin ad ripam, which means 'on the banks' (of the river Duero).
The area enjoys a Mediterranean climate with Atlantic influences. Rainfall is evenly spread over the year. Summers tend to be warm and dry while winters are mild.
The soils are not deep, mostly sandy with loose granite and quartz pebbles. There are many rocky outcrops and the soil is generally poor in organic matter. The presence of slate in the subsoil acts as a heat accumulator during the day and releases it slowly during the night.
The local red grape varieties are mainly Juan García, grown as low bushes, Bruñal (a Portuguese grape used in Dao and Alentejano), Rufete, Garnacha Tinta, and Mencía. There are 17 wineries operating 245 hectares only.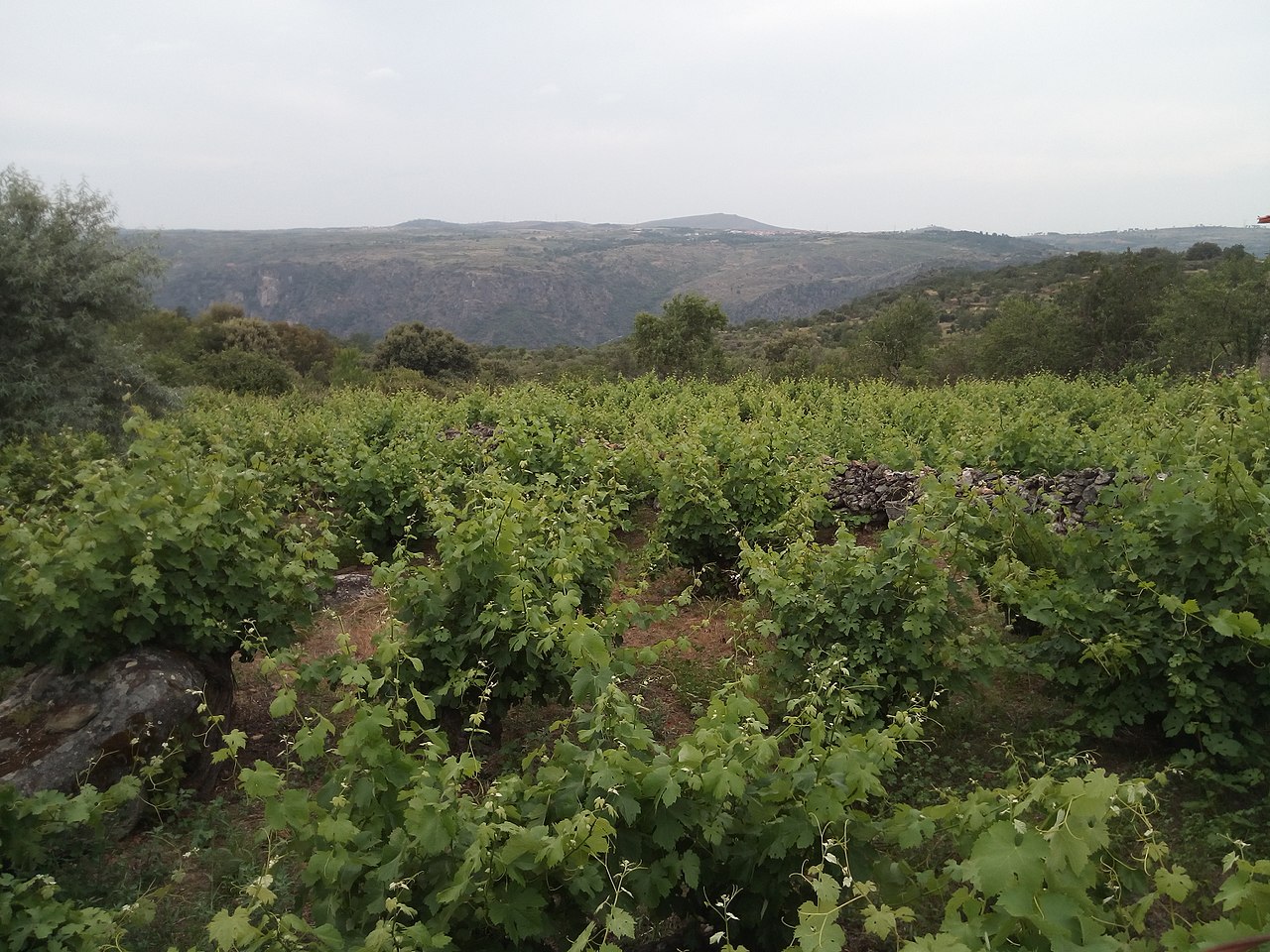 Toro
Wine has been made in Toro since the end of the 1st century BC, when the ancient Greeks taught the local Celtic tribes. In the Early Middle Ages, the wines from Toro were the first to be traded in the region of the River Duero.
Toro still has a number of very old vineyards with pre-phylloxeraTinta de Toro (Tempranillo), which in recent years have been used to source grapes for special cuvées.
The Toro DOP was created in 1987. The red wines are predominantly made with 100% Tinta de Toro grapes.
The 5,800 hectares DOP vineyards are located in the province of Zamora, northwest of Castilla y Leon. Annual production is around 600,000 hectolitres.
The vineyards are at heights of between 620 m and 750 m above sea level.
The DOP has an extreme continental climate (long, hot summers, cold winters) with Atlantic influences. Temperatures are ranging from -11°C in winter to 37°C in summer. Rainfall is light, around 350-400 mm per annum. Hours of sunlight received are about 2,600 per annum.
The soil is formed by sediments of sand, clays and lime-bearing puddingstone, which produce a dark lime-bearing topsoil, with fine and coarse sands.
The best reds tend to contain 100 percent Tinta de Toro and are robust, concentrated and well-structured. There are classified based on ageing requirements : Joven, Roble, Crianza, Reserva and Gran Reserva. White wines constitute only a small proportion of Toro production and are made from Malvasía and Verdejo.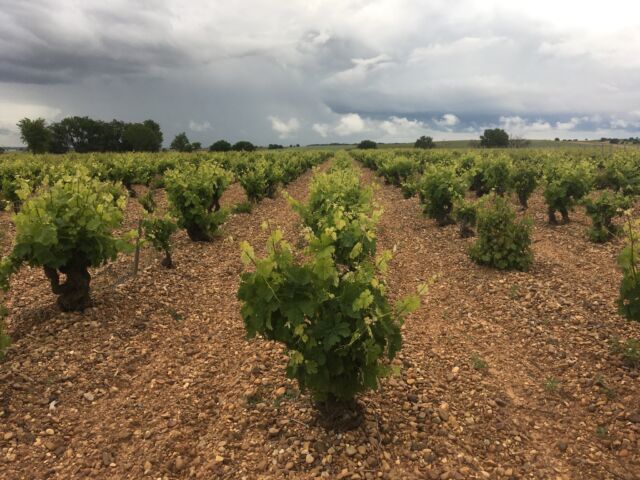 Rueda
Rueda is known primarily for its white wines based on the Verdejo grape.
The first evidence of wine production in this area dates from the 11th century, when King Alfonso VI offered title to lands to settlers in the recently reconquered area.
Official DO status was acquired in 1980, making Rueda the first DO in the Castilla y Leon region.
The DO encompasses an area of 19,000 hectares and is centered around the town of Rueda, in the province of Valladolid about 170 km northwest of Madrid. Annual production is around 650 000 hl.
The land is a flat high plain at an altitude of between 600 and 780 m above sea level. The Duero River flows through the area from east to west.
The climate is continental (long hot summers, cold winters) with a certain Atlantic maritime influences. Temperatures vary widely and can drop below zero in winter and can reach 30 °C in summer. Normally it rains in spring and autumn, with an average rainfall of 400 mm/year, while the vines receive up to 2,700 hours of sunlight per year.
Close to the River Duero the soils are alluvial with a high lime content. To the south the topsoil is brown and sandy with a gravel and clay subsoil. Drainage is good, has a rich iron content and is easy to plough.
White varieties are Verdejo, Viura, Sauvignon blanc, and Palomino Fino. More recently foreign varieties such as Viognier and Chardonnay have been approved.
The authorised red varieties are: Tempranillo, Cabernet Sauvignon, Merlot, Syrah and Garnacha.
Wines labeled Rueda must contain 50% Verdejo; the remainder is typically Sauvignon blanc or Macabeo. Wines designated "Rueda Verdejo" must contain 85% Verdejo, and are often 100% Verdejo.
Verdejo has a thick skin and combines aromas of wild mountain herbs, concentrated fruit and refreshing acidity. The hallmark of great white wines, is noticeable due to its volume and characteristic bitterness, delivering a burst of originality on the palate. Typical example is made by the winery Marques de Riscal.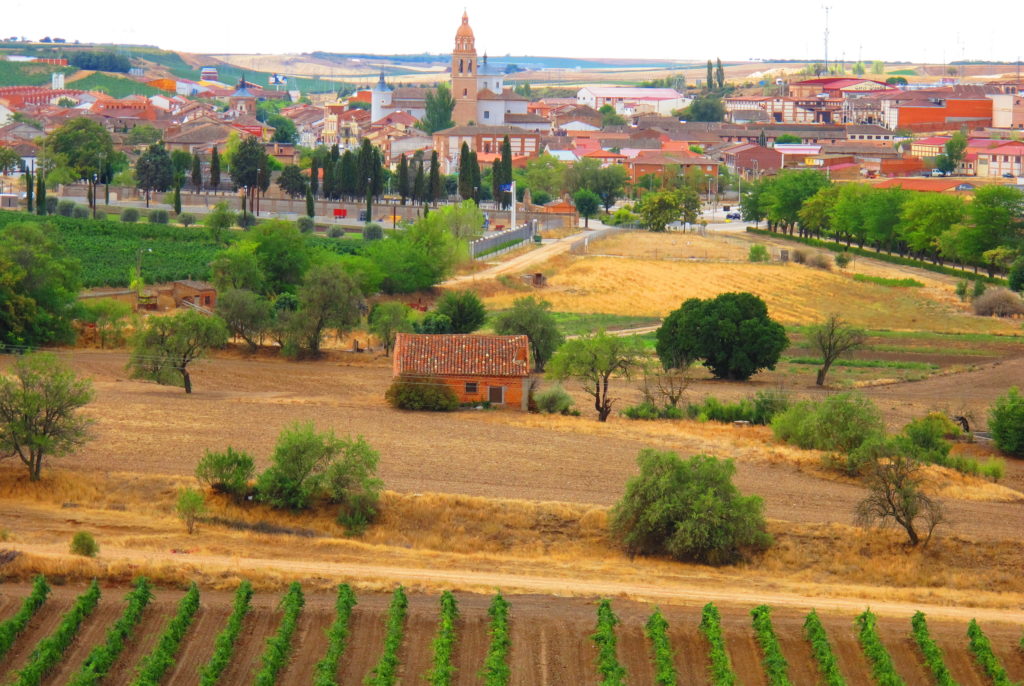 Cigales
Cigales is a Spanish Denominación de Origen Protegida (DOP) for wines located to the north of Valladolid along both banks of the River Pisuerga. It is a relatively recent DO, having been created in 1991.
The Cigales DOP has a continental climate (long hot summers, cold winters) with an Atlantic maritime influence and strong temperature variations.
The soil is light brown in color and is formed by lime-bearing sand and gypsum-bearing clays, lying on a subsoil of clays and marls.
Like other DOPs in the region, Cigales supplied Valladolid and other cities with wine during the Middle Ages. While Toro supplied red wine and Rueda white wine, Cigales specialised in clarets and rosés.
Red grapes: Tempranillo (70% of the area), Garnacha tinta, Cabernet Sauvignon, Syrah, and Merlot.
White grapes: Verdejo, Albillo, and Sauvignon Blanc.
The vineyards cover around 2000 hectares for a production of 5 million bottles.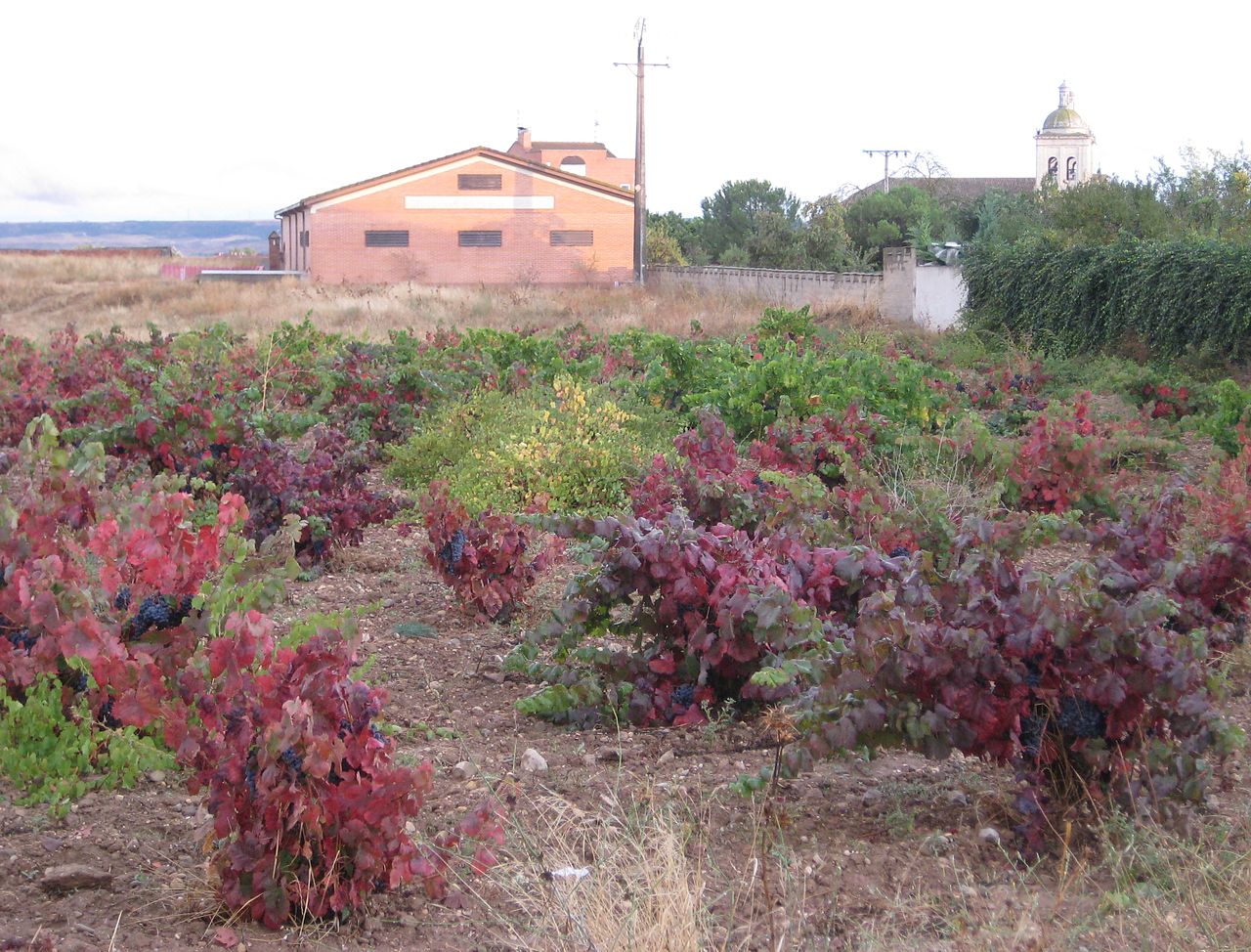 Arlanza
Arlanza is a Spanish Denominación de Origen Protegida (DOP) located in the provinces of Burgos and Palencia. The DOP takes its name from the river Arlanza which flows through it. It was officially recognized in 2007.
The first written evidence of wine production in this area comes from the 12th century, when the monastery of Santa María de Bujedo de Juarros (es) purchased vineyards on the banks of the rivers Arlanza and Duero.
The climate is Continental, with long hot, dry summers and cold winters. In addition there is a sharp contrast between the daytime and night-time temperatures, which in turn slows sugar production and allows for greater
amounts of balancing acidity and fresh fruit flavours to be retained.
As a young appellation, Arlanza is still finding its voice. However, its potential has already sparked interest from new wave producers outside the region who are attracted to the cooler La Rioja-like mesoclimate brought by an altitude of up to 1000m, the lower land prices, and the heritage of old vines (some approaching their 100th birthday) coming from the region's historic field blends that are planted to grapes such as Tempranillo, Grenache, Mencía, and Viura.
Ribera del Duero
We already covered this magnificent wine region under its own blog here : https://www.magnumopuswines.com/blogs/wine-education/ribera-del-duero-wine-region
The Ribera del Duero DO was founded in 1982.
Key Grapes: Tempranillo, Garnacha, Carignan, Verdejo, Viura (Macabeo)
The region is characterised by a largely flat, rocky terrain and is centred on the town of Aranda de Duero. Vineyards occupy around 120 km2 of the region, most of which are situated in the province of Burgos, with around 5 km2 west in Valladolid and 6 km2 east in Soria. As the name suggests, the region follows the course of the Duero river for approximately 115 km.
Viticulture as we know it probably arrived with Benedictine monks from Cluny in the Burgundy region of France in the 12th century.
Vineyard area is about 22 000 hectares for a production around 900 000 hectolitres (average yield 40 hl/ha).
Geologically, tertiary sediments, consisting of layers of silty or clayey sand, alternate with layers of limestone, marl and chalky concretions. The Duero valley has a flat, rocky, gently undulating terrain, ranging from 911 m down to 750 m above sea level.
The Ribera del Duero has moderate to low rainfall (450 mm per year) and is exposed to quite extreme climatic conditions; long, dry summers with temperatures of up to 40 °C are followed by hard winters during which temperatures often come close to freezing temperatures. The climate is continental and Mediterranean, with more than 2,400 hours of annual sunlight.
Wines produced in the Ribera del Duero DO derive almost exclusively from red grapes. The vast majority of production is dedicated to Tinto Fino, the local name for Tempranillo, with most famous example, Dominio de Pingus. Tinto Fino is often, but not always, complemented with Cabernet Sauvignon, Malbec and Merlot, such as in Vega Sicilia's Unico.
There are similarities between Rioja and Ribera del Duero. Both regions produce wines selected for long aging, producing intense, extremely long-lived wines emanating from largely limestone soils. The aging requirements for Ribera del Duero are the same used in Rioja.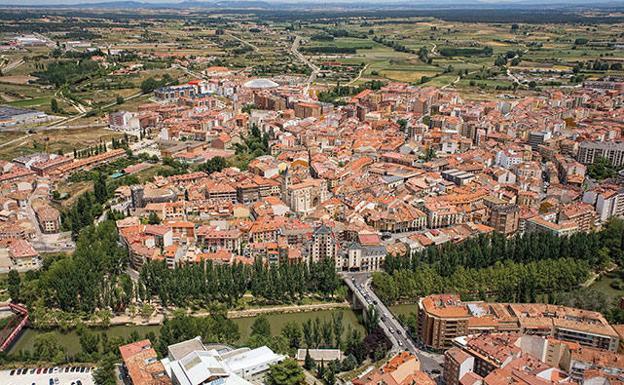 We sincerely hope that you enjoyed reading this wine blog and learned a thing or two about Castilla y Leon wine DOs. Feel free to browse our wine selection from this beautiful region here : https://www.magnumopuswines.com/collections/castilla-y-leon
Cheers!
Comment